Microsoft Office has many, many print calendars to choose from, if you know where to look. There's a trick to choosing the right calendar for your needs, made by Word, Excel, Outlook or PowerPoint.
Printing out calendars or adding them to documents/slides is possible in Microsoft Office though the selection is spread across Word, Excel and PowerPoint. If you're printing, it really doesn't matter which app you use, it's the look of the calendar that matters.
Office Watch special calendars
There are two special calendar templates available to Office Watch members:
Yearly Planner / Calendar for Office Watch readers
From Office Watch regular, David Peel, is an Excel year calendar for any year. Public holidays or other special events can be added. Available as a free download for all.
A better Excel Calendar Creator for Office Watch readers
Also from David Peel plus some more extras from Office Watch.
For any year
Horizonal and Vertical listing
Start of Week – choose Sunday or Monday
Cell styles to easily change the colors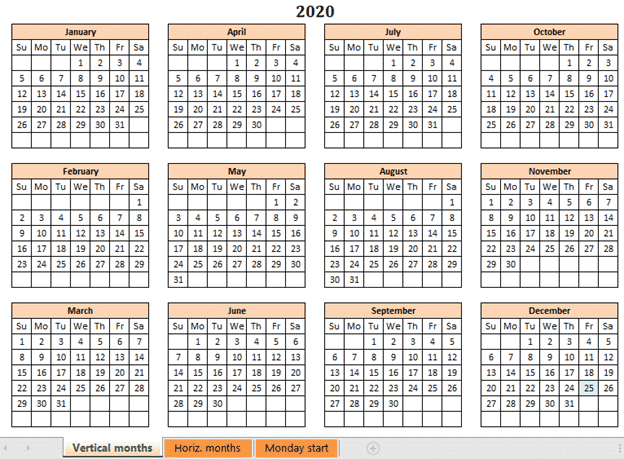 Choose your calendar type
Decide what type of calendar you need:
Yearly
Quarterly (three months visible)
Monthly
Monthly with adjacent months on the side
Weekly
Daily
Daily with time intervals
Which day of the week to start?
There are other extras that are possible:
Picture
Space for notes
Tasks list
Focus on the overall design – not the label or look
Most of the Office calendars have fancy and misleading names that should be ignored. Same goes for the colors or picture that's shown. All that can be changed so focus on the overall design or structure.
Just one example to show you what we mean. Microsoft prominently lists a 'Botanicals Monthly Calendar' template like this …
From the look and name, you might think this template has to include flowers or fruit – but no. This PowerPoint 'premium' template is only available to Microsoft 365 subscribers from here.
Look for the main design elements. In this case, showing one month per slide with a photo on the right and single background color. If that's what you want, get the template, open in PowerPoint and start tinkering. Here's our version of the 'Botanical' March slide, compare it with the original above.
The photo has changed and switched to the left side. Then the slide background changed (using the color selector/eyedropper to match the photo background.
The calendar is a table with an empty bottom row. We removed that and expanded the calendar to fit the extra space. Weekdays changed to bold. A 'special' day is highlighted. The title was enlarged a little.
Get the idea?
Plain, blank calendars
If you want plain, blank calendars, head to Outlook. Outlook for Windows or Mac has many calendar print options which can be filled with appointments/events or completely blank.
More calendar tips from Office-Watch.com
Here's some of the calendar related articles at Office-Watch.com
2023 calendars in Word and the tricks to make them special
Word has many 2023 calendars in the File | New templates supplied by Microsoft.
2023 Calendars in your PowerPoint slides
There are 2023 calendar templates available for PowerPoint, giving you landscape oriented calendars but less options overall.
Make Excel calendars better for you
Excel calendars get labelled with a specific purpose however a few simple changes can make them better.
How to print a blank calendar from Outlook
Quickly print a blank calendar from Outlook with no appointments, notes etc – monthly, weekly and more.
Check out all our Microsoft Office Calendar articles.