Description
"Make great Christmas stationery in a flash with our professionally designed Word documents – ready for you to edit & use."
You've got Microsoft Word already, we'll show you how to use it to create great Xmas cards, letters, emails and gift cards for home or office just using Microsoft Office.
Starting from a blank page is hard.  Get a slick, professional result using one of the included documents and doing a few quick changes so it's personal for you.
Is it some templates?
YES, there are over 100 sample templates ready to open and use or edit to suit your taste.
All you need is any modern Microsoft Office (365, 2019, 2016, 2013 or 2010) for Windows or Mac.
Is it a step-by-step guide?
Also YES?  Christmas Cheer with Microsoft Office is also a 200 page ebook of help, tips, advice and guides.
Over 100 sample documents ready to use or edit to suit you including:
27 Christmas card designs
20 email templates
24 Christmas gift tag designs
25 letter designs
5 Wrapping Papers 

Unique personalized wrapping paper with images or text

5 Vouchers for business or personal use
27 PowerPoint slide backgrounds.
46 original Christmas clipart and image designs plus size and color variations making a total of over 240 files.
60 Christmas Trivia questions – ready for an Xmas Quiz.
All supplied as Word or PowerPoint documents that you can edit yourself. Change the words, colors, images etc to suit you.  (Some online 'templates' are merely PDF files that can't be changed, but Christmas Cheer with Office has fully editable documents)
Ready to use greeting cards, letters, gift tags, wrapping paper and vouchers.
Original and exclusive designs – you won't find anywhere else.
Over 250 original and exclusive sample documents and images
27 festive PowerPoint slide backgrounds
Full Color
Over 200 pages
2020 edition
Fast find, table of contents with links
PDF format compatible with Windows, Mac, Apple and Android tablets and pretty much anything else including, of course, iPads!
We give you fully working documents you can use 'as is' or customize to your heart's content – with tips and help to do that.
Make great Christmas stationery in a flash with our professionally designed Word documents – ready for you to use.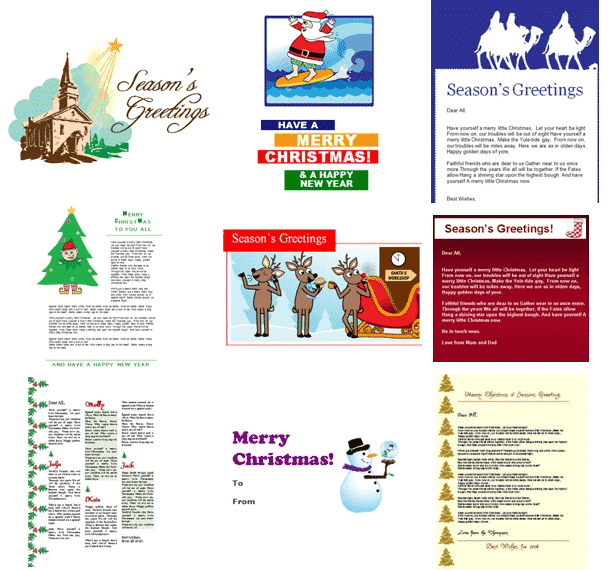 "A practical guide to making Xmas letters, cards, emails and more using what you have already. Includes over 100 ready-to-use examples with step-by-step instructions and tips."
Print out wrapping paper or other Xmas stationary with the persons image or text right there on the page.
Late Arrival – Love Actually design
Love Actually design for Office, Word or PowerPoint we've added the finished product to the ebook.
Even add photos to cards, letters, and gift tags even wrapping paper.  We've made it simple with examples that include photos with step-by-step help to change to a photo of your choice.
PowerPoint at Christmas
Also Christmas themed PowerPoint slide backgrounds.
Christmas Cheer with Office – 2020 edition works for all modern versions of Word for Windows. Word 365, 2019, 2016, Word 2013, Word 2010 and Word 2007.  Also compatible with Office 365, 2019 and 2016 for Mac.  The Christmas Gallery of 106 ready-to-use examples are editable Word or PowerPoint documents.
Features
Greeting Cards – make you own personal Christmas cards
Letters – make your annual 'family' letter something special with pre-made designs and tips for including pictures.
Gift Tags – make your own gift cards.
Email – send a festive email
Wrapping Paper – add a name, personal message or photo to the wrapping itself!
Vouchers –
A gallery of examples of exclusively designed cards, letters, gift tags and emails ready for you to use or edit to your needs.
106 documents are included with previews, explanation and suggested uses.
PowerPoint slide backgrounds
Fonts – our choice of free Christmas fonts with suggested uses
Graphics and Pictures – links to sites with Christmas imagery plus instructions on how to use them in your documents.
Step-by-step guide organizing your Outlook Contacts list to send Christmas cards or emails.
Holiday mail merge – step-by-step to create letters or emails for the holiday season.
Recommended Page Borders available in Word 2003 and above.
Emoji – a selection of Christmas themed emoji and how best to use them.
Bonus graphics — over 45 exclusive, original seasonal graphics ready to use in your own documents.
'Christmas Sack' – a collection of popular lyrics and verse for easy reference and copying into your own documents
Links to sites full of Christmas related images and resources.