Description
"Make great Christmas stationery in a flash with our professionally designed Word documents – ready for you to edit & use."  2023 edition.
You've got Microsoft Word already, we'll help you use Word to create great Xmas cards, letters, emails and gift cards for home or office just using Microsoft Office. We'll even include starter documents that have most of the work done for you.
Get a slick, professional result quickly using one of the included documents and doing a few quick changes so it's personal for you.
Is it templates?
YES, there are over 100 sample templates ready to open and use or edit to suit your taste plus exclusive Christmas graphics.
All you need is any modern Microsoft Office (365, 2021, 2019, 2016, 2013 or 2010) for Windows or Mac or the free Word in a browser.
PLUS hundreds of original images for you to use in your own emails, letters, slides or other Christmas needs.
Is it a step-by-step guide?
Also YES!  Christmas Cheer with Microsoft Office is also a 265 page ebook of help, tips, advice and guides.
Over 100 sample documents ready to use or edit to suit you including:
27 Christmas card designs
20 email templates
24 Christmas gift tag designs
25 letter designs
5 Wrapping Papers 

Unique personalized wrapping paper with images or text

5 Vouchers for business or personal use
27 PowerPoint slide backgrounds.
46 original Christmas clipart and image designs plus size and color variations making a total of over 240 files.
130 more original images based on the AI 'text to image' chapter in the book, including many 'nativity scene' options.
60 Christmas Trivia questions – ready for an Xmas Quiz.
New in 2023 – MS Designer and other AI Magic
A whole new chapter about now to use Microsoft 'text to image' AI to make personal, unique images for your Xmas stationery. The ebook has all the images we used in the 'how to' guide, ready for you to use if any catch your eye.  Here's just four of the 130 images (religious, secular, fun) that come with Christmas Cheer with Office.
Microsoft Designer can, with a little trickery, make a personal banner decoration for a Christmas letter or email. We'll show you how including the little design tweaks that make it look great.
Religious and Secular Christmas
Christmas Cheer with Office has themes and images for both a Christian religious Christmas or a secular one.
18 years in the making
Christmas Cheer with Office has grown over more than 18 years. It started as an idea by Peter Deegan with MaryJane Almer adding her considerable design skills.  First edition was a mere 60 pages with 30 attachments, now it's over 265 pages and over 390 exclusive attachments.
In other words, all the Christmas content we could think of all packed into one book.
All supplied as Word or PowerPoint documents that you can edit yourself. Change the words, colors, images etc to suit you.  (Some online 'templates' are merely PDF files that can't be changed, but Christmas Cheer with Office has fully editable documents)
Ready to use greeting cards, letters, gift tags, wrapping paper and vouchers.
Original and exclusive designs – you won't find anywhere else.
Over 390 original and exclusive sample documents and images
27 festive PowerPoint slide backgrounds
Full Color
Over 265 pages
2023 edition
Fast find, table of contents with links
PDF format compatible with Windows, Mac, Apple and Android tablets and pretty much anything else including, of course, iPads!
We give you fully working documents you can use 'as is' or customize to your heart's content – with tips and help to do that.
Make great Christmas stationery in a flash with our professionally designed Word documents – ready for you to use.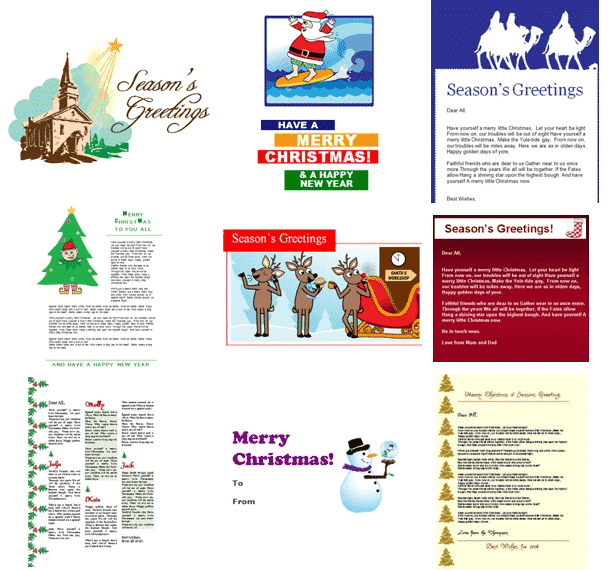 "A practical guide to making Xmas letters, cards, emails and more using what you have already. Includes over 100 ready-to-use examples with step-by-step instructions and tips."
Print out wrapping paper or other Xmas stationary with the persons picture or text right there on the page.
Snow picture overlay
Make a family photo more festive with a simple 'snow' image overlay.  Christmas Cheer with Office shows you how to do it, the many options for changing the look and where to find the transparent overlay images.
"Love Actually" design
Love Actually design inspired by the movie poster with examples you can open in Word and PowerPoint.
Even add photos to cards, letters, and gift tags even wrapping paper.  We've made it simple with examples that include photos with step-by-step help to change to a photo of your choice.
Video backgrounds – add a festive look to your background for Teams, Zoom or Skype calls.
PowerPoint at Christmas
Also Christmas themed PowerPoint slide backgrounds.
Christmas Cheer with Office – 2023 edition works for all modern versions of Word for Windows. Word 365, 2021/LTSC, 2019, 2016, Word 2013 and earlier.  Also compatible with Microsoft 365, Office 2021, 2019 and 2016 for Mac.  The Christmas Gallery of 106 ready-to-use examples are editable Word or PowerPoint documents.
Features
Greeting Cards – make you own personal Christmas cards
Letters – make your annual 'family' letter something special with pre-made designs and tips for including pictures.
Gift Tags – make your own gift cards.
Email – send a festive email
Wrapping Paper – add a name, personal message or photo to the wrapping itself!
Vouchers –
A gallery of examples of exclusively designed cards, letters, gift tags and emails ready for you to use or edit to your needs.
106 documents are included with previews, explanation and suggested uses.
PowerPoint slide backgrounds
Fonts – our choice of free Christmas fonts with suggested uses
Graphics and Pictures – links to sites with Christmas imagery plus instructions on how to use them in your documents.
Step-by-step guide organizing your Outlook Contacts list to send Christmas cards or emails.
Holiday mail merge – step-by-step to create letters or emails for the holiday season.
Recommended Page Borders available in Word 2003 and above.
Emoji – a selection of Christmas themed emoji and how best to use them.
Bonus graphics — over 45 exclusive, original, human made seasonal graphics ready to use in your own documents.
Even more graphics — all the Dall-E/Microsoft AI images demonstrated in the ebook are included for you to use, 130 original images including many 'nativity scene' variations.
'Christmas Sack' – a collection of popular lyrics and verse for easy reference and copying into your own documents
Links to sites full of Christmas related images and resources.