Press Release: 4 March 2015
VoIPstudio is releasing a Softphone that integrates with Microsoft's Outlook email client. This new service can be used as a direct replacement for Microsoft's Lync client and allows users to integrate contacts and make calls straight from the Outlook interface.
Due to the high demand for easier and more specialised handling of contacts within the Outlook email client, the new Softphone is compatible with Outlook versions from 2010 to 2013.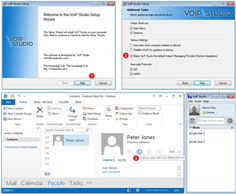 Marketing Specialist, Martin Ozarek announced that "2015 is year of integrating every-day office applications for more effective of communication. Using a telephone systems that is utilising specially Hosted PBX'es with other applications is the new trend for businesses wanting to work more efficiently. Now, our users can connect their Outlook client with our Cloud PBX, which is simply the best solution for small businesses."
Many companies were waiting for this simple, three steps Outlook integration with VoIPstudio's softphone, which will allow calls to be made from their Outlook email client.
Increased connectivity is a benefit when working with clients as well as customers. This new feature, utilising VoIPstudio as a platform for call management, is the next step in making Outlook a more powerful tool.
—
VoIPstudio provides a "one click to call" feature in Outlook email client, which makes Outlook and VoIPstudio a more efficient combination. It is one of many VoIPstudio benefits that organisations receive when using the Microsoft Outlook email client.
About VoIPstudio
VoIPstudio is a cloud-based business telephone system, created especially for organisations that require professional communication features without owning and managing an on-site telephone system. There is no need to maintain expensive on-site PBX equipment, as VoIPstudio will maintain and upgrade the system allowing you to focus on your business.
With a VoIPstudio telephone system for your business, both internet or VoIP calls are free. It will enable your co-workers to talk to each without any additional charges. It does not matter if they are in the next room, in a different city or on the other side of the world – they are just one extension away!