People are right to be angry at Microsoft for f….ing up just a simple search of their own computer. Here's how to fix the problem, in case it happens again with the bonus that it stops Microsoft getting details of each search you make.
The problem started when innocent Windows 10 users tried to find a document, file, program or setting using Windows Search … the box at bottom left. Instead of seeing results, people got a black box.
Source: Reddit
That black box shows up sometimes (usually on slow computer or with slow Internet) but should disappear. Instead Windows 10 was stuck there.
According to Microsoft this was a server issue which they've fixed. As usual with Redmond's explanations it's true, but not the whole truth.
Whenever you do a Search in that box, your request goes off to Microsoft which replies (using Bing Search) with related searches from the Web. It doesn't matter that you're looking for a document on your own computer, Microsoft knows.
That's why an innocent Windows Search can show you results from the Internet as well as your computer. Microsoft sells that as a benefit, ignoring the privacy issue and slower searches.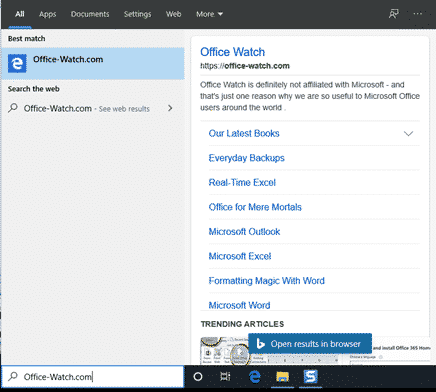 (You didn't think Microsoft gave free Windows 10 upgrades out of the goodness of their hearts? No, they use Windows 10 to hoover up user data … the most valuable resource in the 21st Century Internet)
When Microsoft's search servers went phooey, Windows 10 could not get a proper response and gave customers a black screen. Or got stuck on the black screen and could not proceed.
Sure, Windows should have just allowed a local computer search without the web extras, but the Search box code seems to assume that Microsoft's cloud services are like the Pope – infallible.
The real problem, which Microsoft won't admit, is that the Search box code is terrible. It's a slow kludge that should be a lot more efficient and more tolerant of server connection problems.
Block Windows Search from the Internet
Originally there was an option in Windows 10 to stop these unwanted Bing searches but Microsoft removed that choice. Now, a registry hack is necessary.
HKEY_CURRENT_USER\Software\Microsoft\Windows\CurrentVersion\Search
Needs two DWORD keys setup
BingSearchEnabled = 0

CortanaConsent = 0


Microsoft's official story
Here's all Microsoft will say about the whole Windows Search problem on 5 Feb 2020.
" Resolved: Windows Search shows blank box

We are aware of a temporary server-side issue causing Windows search to show a blank box. This issue has been resolved for most users and in some cases, you might need to restart your device. We are working diligently to fully resolve the issue and will provide an update once resolved.

This issue was resolved at 12:00 PM PST. If you are still experiencing issues, please restart your device. In rare cases, you may need to manually end the SearchUI.exe or SearchApp.exe process via Task Manager. (To locate these processes, select CTRL + Shift + Esc then select the Details tab.)"