For a long time, Microsoft has quietly fixed bugs in Office, which is a good thing.  Not so good is their habit of hiding news of these fixes.  If you've been suffering with a particular bug, it's hard to know when or if it's been fixed.
Among the January 2016 fixes are these (using Microsoft's bug description):
Office 2016
After you change from Mouse mode to Touch mode in Office 2016 applications, the Quick Access Toolbar (QAT) icons aren't enlarged. KB3114536
After you use Office deployment tool to install Office 2016 Click-to-Run editions with multiple language packs, the language that is set in the config.xml as the first language isn't set as the default language.   KB3114530
After a user overrides a policy tip for a document in an Office 2016 application, the information doesn't appear in the Data Loss Prevention (DLP) report.  KB3114512
Outlook 2016
After you save an email message to an .msg file in Outlook 2016, the attachment in the email message is displayed as 0 kilobyte (KB).
You start Outlook 2016, and you use a right-to-left language. In this situation, when you move another window over Outlook 2016, a redraw issue occurs, and the background of Outlook 2016 isn't repainted correctly. Therefore, it is difficult to read the content in Outlook 2016. KB3114536
Translates some terms in multiples languages for the accuracy of the meaning.
Assume that you send a meeting request that is in the HTML format in Outlook 2016. When you open the meeting request, the attachment is missing.  KB3114532
Excel 2016
When you edit the text in a chart and then select the Font Size drop-down list and pause on different font sizes in Excel 2016, Excel 2016 may crash.  KB3114531
Access 2016
You can't connect to a SharePoint list in Access 2016 if the list contains a column in which the name is longer than 10 double-byte character set (DBCS) characters.  KB3114689
OneNote 2016
When you delete a bullet in a notebook in OneNote 2016, the ink in the notebook may disappear or OneNote 2016 may crash.   KB3114534
All the above bug fixes are described in their Knowledge Base articles under the heading "Improvements and fixes".
But what are customers supposed to make of these three mysterious KB articles … KB3114533   KB3114525 and  KB3114521
They have no 'improvements and fixes' heading at all!  There's nothing to indicate what (if anything) the Office updates do!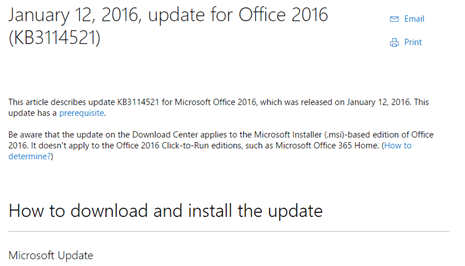 We know Microsoft doesn't like admitting to bugs in Office, but this is taking secrecy a bit too far!