Here's how to stop Outlook.com/Hotmail from wrongly marking email as spam.  These are messages that end up in the Junk Email folder.
We've already explained how to move messages from the Junk Email folder to your Inbox.  But that doesn't stop future messages from the same sender going to the Junk Email folder.
The option for overriding the spam filter is at Outlook.com.  It's also in the Outlook software Windows/Mac but we suggest you use the web browser option.
Outlook software or Outlook.com ?
Change your junk email setup at Outlook.com in your web browser.
The mail server does the spam filtering so it makes sense to change the setting where the work is done.
You can also take advantage of the latest junk email settings only available online (which can be different from what you see in Outlook software).
Anyone with an Outlook.com/Hotmail account can, in theory, control their Junk Email from either Outlook software (Windows or Mac) or from the web browser interface.  The same applies to anyone with an Exchange Server mail host (eg Office 365 mail hosting, corporate mail etc).
Outlook software Windows/Mac. Junk Email settings in Outlook software should be copied to Outlook.com.  However, Outlook.com has some junk email features not available in Outlook software.
This help will show you the Outlook.com web interface.
Outlook.com Junk email options
Login to your Outlook.com account and go to Settings (the cog icon at top right)
Microsoft is moving to a new online interface (called 'Beta' as we type this).  We'll use the new 'Beta' interface in this article.
The current, soon to be old, settings looks like this.
The newer, currently Beta, web site looks like this under 'full settings' (scroll down the Quick settings to see the full settings link).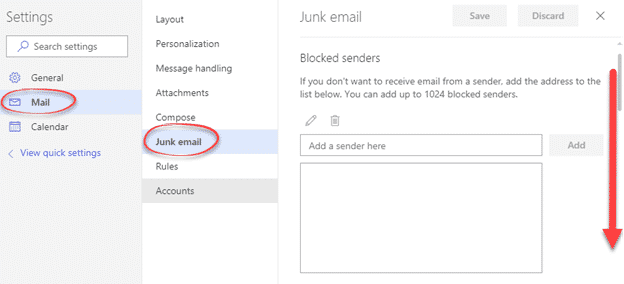 As you can see, the old 'look' had clear links to the Junk Email options: Blocked Senders, Safe Senders, Filters and reporting.  Also 'Safe Mailing Lists' which isn't in Outlook software.
The new interface has some of those options on one screen, you have to scroll down to see them.  Blocked Senders, Blocked Domains, Safe Senders, Safe Mailing Lists.
We'll be using 'Safe Senders', ignore 'Safe Mailing Lists'.
Consistent FROM address
Well run mailing lists have a consistent FROM address for all their mailings.
Office-Watch.com  has used  [email protected]  for over two decades.  Automatic emails like order confirmations about our ebooks come from [email protected]
Popbitch has used [email protected]  as their FROM address for a long, long time.
You can setup Outlook to put messages from the addresses you choose into your Inbox … the 'Safe Senders'.
Safe Senders
Go to Settings | Mail | Junk email, scroll down to Safe Senders.
Enter [email protected]  then click Add.
For Popbitch readers, type in [email protected]  then Add.
Outlook software
Safe Senders is also available in Outlook software Windows/Mac however it will only sync with the mail server for Exchange Server accounts (like Outlook.com).
Safe Senders will NOT protect you from faked emails
Junk email filters at mail hosts should block faked messages but won't always succeed. There are email verification systems in place (like SPF and DKIM) there's no way to reliably stop faking the FROM address in an email.  Spammers do this all the time to fake messages from banks, Paypal, government agencies and others.