Office for Mere Mortals helps people around the world get more from Word, Excel, PowerPoint and Outlook. Delivered once a week. free.
We never share your email address with anyone - never have, never will. Privacy Policy.
Microsoft Office is showing an 'Updates Available' below the ribbon 'message bar'.  What to do? especially if you don't want to update right away.
"UPDATES AVAILABLE
Updates for Office are ready to be installed, but first we need to close some apps.  Update now "
It looks like you have only two choices, 'update now' and interrupt your work or leave the message sitting there.
There's a third option, that little black x on far right.   Click on that to make any message bar disappear.
The Updates Available message is in addition to what you'll see at File | Account in Office 2019 or Office 365 for Windows.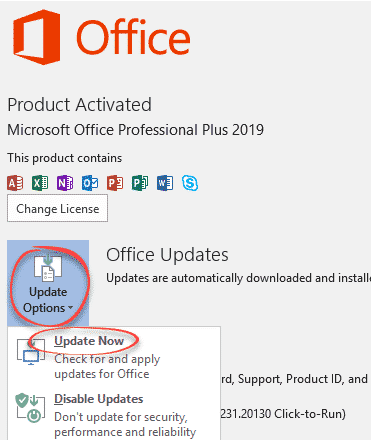 Use that to update Microsoft Office when it suits you.
Want More?
Office Watch has the latest news and tips about Microsoft Office. Independent since 1996. Delivered once a week.
We never share your email address with anyone - never have, never will. Privacy Policy.