You might see mentions of "Outlook Groups" or even Groups appearing in your Outlook navigation pane.  What are Outlook Groups, Microsoft 365 Groups and what can you do with them?
For many people, the first thing they know about Groups is when the name appears in their Outlook, either Outlook desktop Windows/Mac (left) or Outlook in a browser (right).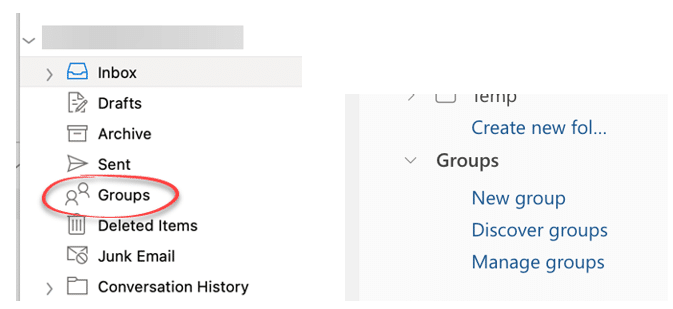 In the browser version, Groups are more prominent with choices to make a group, find groups already in your organization or manage Groups.
Outlook Groups are part of the larger Microsoft 365 Group feature for organizations using Microsoft paid hosting (Business and Enterprise plans).
What is a Microsoft 365 Group?
Microsoft 365 Groups is available to most Microsoft 365 Business, Enterprise and Education plans which have Exchange Online and SharePoint Online.
Microsoft 365 Groups is a Microsoft cloud/collaboration feature for organizations mainly with a shared mailbox (unique email address), calendar and document store (SharePoint).
A Group also has a OneNote notebook, Planner, Power BI and Stream plus some other options depending on how the group was created.
Here's how a Microsoft 365 Group appears in Outlook desktop with links in the opening email to 'Start a conversation' (an email to the group), 'Add to a team site' and 'Share files'.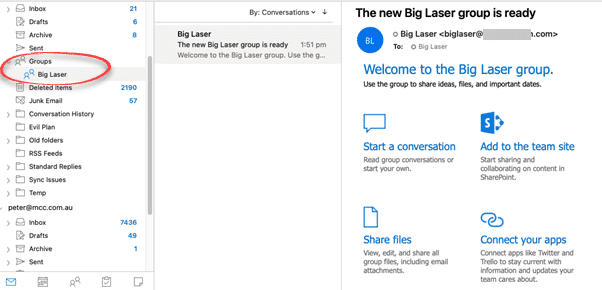 A shared mailbox can be useful for a team working on a project and need a single email address to communicate with each other such as [email protected] .  A more common use might be a group address like help@ which many people in the organization can see and reply to customer queries from a single mailbox.
It's the shared Microsoft Group mailbox and calendar that can be connected to Outlook where it's called "Outlook Groups".
What about Teams? Teams has a lot more features like online chats, integrated apps and a lot (perhaps too much) more.
Explaining the different Outlook "Group"
Yet again, Microsoft is a little tangled up, using similar names for features. There are two 'group' features in Outlook.
Contact Group – a long-standing Outlook feature which combines many contacts (especially email addresses) into a single item. That makes it easy to send many emails quickly by choosing a group instead of picking individuals each time.  Back in the mists of time, it was called an Outlook distribution list.
Outlook Group – is part of Microsoft 365 Groups.  In Outlook the Group separate mailbox, calendar, file location.
Some confusion arises because Microsoft talks about "Outlook Groups" as if it's a separate feature within Outlook. It's really just the Outlook software part of the larger Microsoft 365 Group service.
If you see Groups options in your Outlook and your organization doesn't use them, just ignore it. They are an optional part of Microsoft 365 and Outlook.
On the other hand, Microsoft 365 Groups are worth considering. They are simpler to use and understand than Teams which can be very confronting, overburdened with 'bells and whistles'. Groups is mostly limited to emails and document sharing which most people are comfortable with.
What are Outlook .nst files? Can they be deleted?
Make Contact Groups with CC and BCC in Outlook
Fixing your Outlook Data Files (PST and OST)