A simple way to update Microsoft Office 365 for Windows with one click instead of digging into the menus to do it. We'll show you the simple command line with options that make it possible.
Normally, the Windows versions of Microsoft Office 365, Office 2021 and Office 2019 all update automatically and you don't have to think about it. But sometimes you might want to force an update. Perhaps to get a new or changed feature or in hope that a bug fix is included.
Do that manually from any Office app File | Account | Update options | Update Now.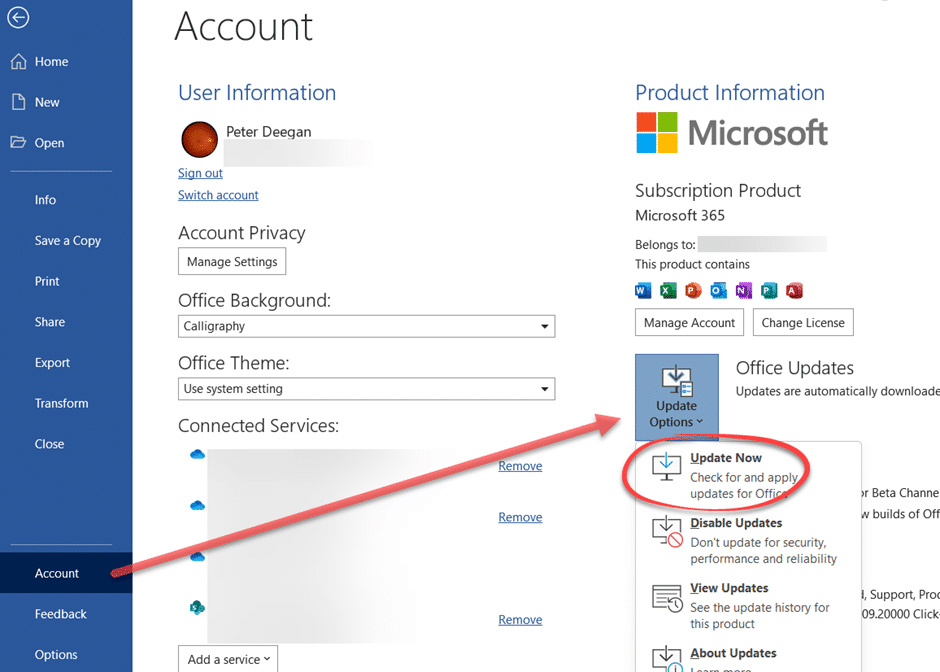 Office update from the command line
There's a faster and admittedly nerdy way to run Office update from the command prompt (aka DOS box). To force an update to Office use this command
"C:\Program Files\Common Files\microsoft shared\ClickToRun\OfficeC2RClient.exe" /update user
This will trigger the Office update program directly. Wait a little while and the result will appear on the screen.

If you're running 32-bit Office, change the path to C:\Program Files (x86)\…
Silent Mode
You can also do this "silently" with no on-screen prompts by adding some more parameters like this:
"C:\Program Files\Common Files\microsoft shared\ClickToRun\OfficeC2RClient.exe" /update user displaylevel=false forceappshutdown=true
displaylevel=false – stops the on-screen display by Office update.
forceappshutdown=true – closes any Office apps to allow the update to complete.
One click Office update
Knowing the command line options means you can automate the Office update process or at least make it a single click operation.
Make a batch file like this OfficeUpdate.bat example.
Now you can do plenty of things with the batch file like:
Add a shortcut on the desktop or Start Menu to one click an Office update
Make a scheduled task to update Office at a specific day / time that suits you (as opposed to whatever mysterious schedule Microsoft decrees).
(not recommended) add as a Windows startup task. Not recommended because usually startup tasks are crowded enough already without adding more!
Which versions of Office
This should work with any Office for Windows setup with a 'Click to Run' install.  That means Microsoft 365/Office 365, 2021, LTSC and 2019 for Windows.  Also some Office 2016 installs.  Check what you have from File | Account | About … then check the text next to the version/build numbers.
Can you trust Office Updates?
Faster updates for Microsoft Office with Update under Lock
Microsoft 365 semi-annual users forced to monthly updates
How to update your Microsoft 365 licence before going offline
All the options for Microsoft Office 365 update channels