After the recent docs.com scare we've had a few readers asking the basic questions: What is docs.com? What's the difference between docs.com and OneDrive?
In short, use OneDrive for all your cloud storage needs.
Consider Docs.com, if you have a document that you'd like to share with the public or a wide group of people.
Docs.com
Docs.com is a site for sharing documents (Office documents, Mix and Sway presentations plus PDF's) with people or the public.
You can post an Office document there to be viewed by:
People with a direct web link
Anyone
Microsoft has the site configured so it's scanned by search engines like Bing and Google. Documents you post to docs.com will eventually appear in web searches.
There are options to embed the document into other web sites (look for the Embed option) or share via Facebook, Twitter or Linked in.
Collections let you group documents together, similar to folders.
Under 'Details' you can see basic web analytics showing how many people are viewing the document over time.
Documents have to be individually uploaded to docs.com. Unlike OneDrive which has apps to allow synchronization of computer folders with cloud storage.
Docs.com did have support directly in Office 2016 for Windows back in August 2016, but it's been quietly dropped.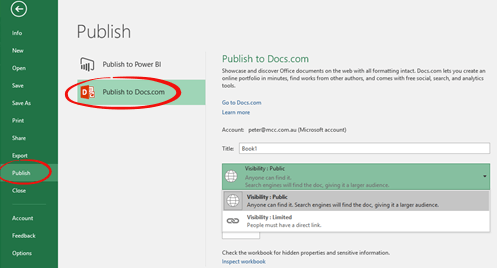 The same sharing features are available in OneDrive for all types of files, not just documents. But, generally speaking, publicly shared documents in OneDrive are unlikely to appear in web searches.
OneDrive
OneDrive lets you save files of all types, including Office documents.
There are optional sharing and collaboration features but, unlike docs.com, the default is no sharing.
Office 365 'subscribers' get 1 Terabyte of OneDrive storage.
There are apps for Windows, Mac, Apple and Android devices which let you sync OneDrive files or folders with local storage. Docs.com doesn't have any sync features.
OneDrive files can be kept private to you alone, shared with selected people or made available to the public.
Modern releases of Office can save and open documents directly from OneDrive (with an Internet connection 'natch).
With the right Office software and permissions, a OneDrive document can be accessed by many people to read or edit at the same time.
The default for OneDrive files is private with no sharing, except the Public folder.