There's a somewhat confusing range of parts inside Microsoft Teams, here's a guide to things like Teams, Channels, Chats, Wiki and other goodies.
In How Microsoft Teams fits together we explain the Microsoft Teams structure from an teams.
The Best Way to learn Microsoft Teams
Dive in and try it.  Teams is a collaboration service so the best way to learn is to use Teams.
Our suggestion is to make a Playground team where people can try things out without worrying about messing anything up or doing something wrong.
Team
An Organization can split into Teams.  Teams are sub-groups of Organization members participating on a particular project or event.  Teams can be Departments or special projects with people from many parts of an organization. See ????
Channels
The main venue for communication is a Channel.  Channels are separate topics or subjects within a team.  A new team gets a 'General' channel automatically, more can be added as required.
Each team can have one or more Channels.  All Team members can access all channels.
Conversations
A channel conversation is like a thread or history of activity in the channel.  When files are added, it's usually automatically mentioned in the conversation.   Files can have comments attached to them, like the ones in this example.
Other information can be automatically added to a channel via connectors, more on them a little later.
Many files and documents can include comments alongside, those comment will appear in the Conversation.
Chats
Chats are like texting or instant messaging chats.  Look for the Chat option at left.
T-bot
A special chat option is the T-bot, a automated help service using Microsoft's Artificial Intelligence technology.
Type in a question about using Teams and, hopefully, you'll get a helpful reply.
It's similar to the 'Tell Me…' help feature in some Office products.  Like 'Tell Me', the T-bot answers aren't always very helpful but it's worth a try.
Calling
Teams combines various forms of communication within a Team or Channel.
Instant messaging
Voice over IP (VoIP)
Video conferencing inside the client software
With a few exceptions (like the current Chrome browser) anyone who can access Teams can use the voice or video conferencing features.
Wiki
Simple wiki-like page can be created in channels.  The Wiki only has single-level headings plus an area for rich-text with pictures etc.  Use it to create a 'Q & A' or overall guide to the channel topic.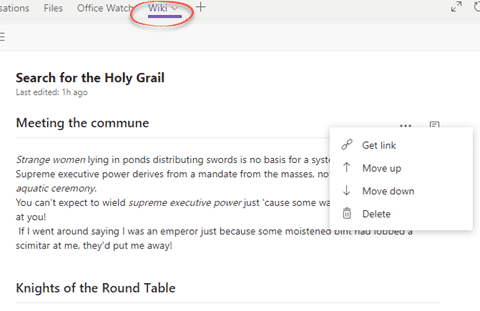 If you want more structure than the simple Wiki, switch to a shared Word document.
Files
Of course, Teams and Channels can have files linked or attached to them.
Any type of file can be uploaded.  As you can see, we've uploaded Access databases, RAW images and even a TrueType font.  However Teams doesn't know what to do with those files.
Teams can work with common file types like photos and PDF's.
Documents, Spreadsheets and Presentations
Of course, Microsoft Teams work directly with Word documents, Excel spreadsheets and PowerPoint presentations.
Office documents can be uploaded into a Team or Channel for members/guests to view or edit.
Above you can see a conversation beside the slide, those msgs appear in the channel conversation.
Editing can be done in Office Online (browser based) or with Office Mobile apps.  Paid Teams accounts can open and edit documents in Office for Windows or Mac.
Apps
Teams can be expanded by adding apps from third-party vendors.  If you're using some online service, chances are they'll have a Teams app so you can use their service within a Team.
Connectors
The most useful type of app, at least initially, are Connectors.
Connectors bring information into a Channel from other web sites.  There are many connectors with the main ones being Facebook, Twitter and RSS.
An organisation could include their Facebook page or a page related to the channel within the Team view.
Similarly, a Twitter feed from a particular source or hashtag can appear in a Teams Channel.
RSS lets you import information from any source that publishes an RSS feed (like a web site).  Handy for anything that doesn't have a specific connector.
Sites
Sites are a type of connector though they aren't listed with connectors.
You can add a site or web page into a Channel.  Here we've added the Office-Watch.com web site as a tab on the Channel.
Tabs
Within each Channel there are tabs across for easy access to important or regularly used items.
A new channel gets three tabs right away: Conversations, Files and Wiki.  Add more with the  + sign at the right of the tabs.  Add specific documents (like the Excel worksheet above), PDF's, website or wiki plus some app.