The Archive button in Outlook 2016/2019 and Outlook 365 is a very different thing than previous versions.
Archive is just another folder among many in the same Outlook mailbox and data store.
It's a default folder (which can't be changed) for Office 365 hosted, Outlook.com, and Exchange accounts.
For other accounts (POP3, IMAP) you can make an Archive folder (with any name) or use an existing folder instead.
The New Archive folder
This new style Archive folder is part of your mailbox and saved in the PST/OST file. Unlike the old Archive which saved messages separately.
In other words, Archive is nothing special.  It's just another Outlook folder.
Searchable – it can be searched either separately or as part of an 'Current Mailbox' or wider search.
Sync – the Archive folder can be synchronized (or not) with other devices and cloud storage.
Pressing the Archive button
Selecting message and clicking the Archive button moves the message to the designated Archive folder.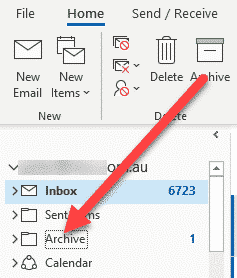 That's it!  Nothing more or less than that.  It's no different to using the Move button and choosing Archive from the pull-down list (if you've done that before).
Because it's just a simple Move command, you can add things to the Archive folder using other Outlook features:
Shortcut to Archive
One difference is the shortcut.  A message in the reading pane can be moved to the Archive folder by pressing Backspace.
That makes for an an elegant pair of keyboard shortcuts for managing emails:
Backspace – move to Archive folder
Delete – move to Deleted Items
AutoArchive lives!
To be clear, the old AutoArchive is still in Outlook 365/2019 but it's hiding away.
Right-click on the Inbox folder choose Properties then AutoArchive.
Choose from auto-archiving according to the default settings from AutoArchive or custom settings for that Inbox.
However, as we've already said, AutoArchive is not necessary or even a good idea with modern Outlook.  There's no need anymore to move older messages to improve Outlook's performance.  Archiving makes it harder to find and manage your mail store.