Continuing our look at what to put in a bag ready for an emergency trip to hospital.  A checklist to 'Prepare for the worst'.
In part 1 Get ready for hospital – have a 'go bag' ready we looked at the devices to take, what to put on them and setup.
Now we'll list some of the non-techy things to consider.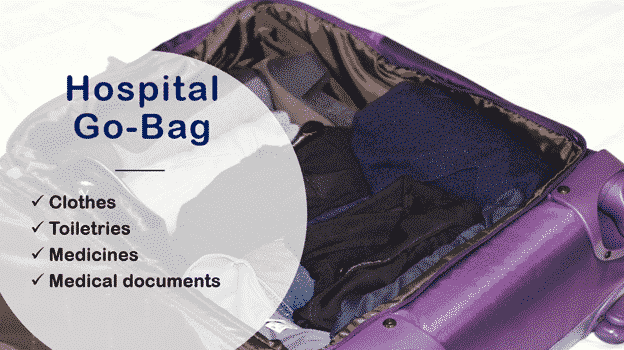 Again, we're obliged to Rose Vines and her Facebook friends for some of these suggestions.
Pyjamas x 2
Socks / Bedsocks x 2
Slippers
Robe
All current medications

plus a sheet listing them, doses and timing

Toiletries,
Toothbrush, toothpaste etc.
Pads / Tampons
Moisturiser / Lotion
Body Wipes, in case you can't shower
Gum
Health Insurance details

Public and Private
e.g. NHS number (UK), Medicare number (Australia).

Bottle of Water

" Even in normal times, medical staff is often too busy to bring you a cup of water if you're feeling parched. It'll likely make things easier on everyone if you have your own reserves ready to go."
Medical Info
List of current medications and doses

If possible, the generic or active ingredient name as well as the brand name.
What the medicine is for; high blood pressure, diabetes, cholesterol etc.

Medical history including doctor contacts.

Ideally a letter from your regular doctor.

Who is your 'next of kin'? Check the legal situation and make your wishes clear.

Next of Kin might not be obvious if you're single, co-habiting or other relationship not legally recognised.  Sadly even where 'gay marriage' is legal, there still may be resistance by individual medical staff.

Any instructions / requests for how you'd like to be cared for, if incapacitated.  The names vary between countries; Medical Power of Attorney, Health Care Proxy / Directives, 'Do Not Resuscitate' requests etc.

There are often special forms ready to complete.  Check with your doctor or local health department for what's suggested in your area.
Make sure you talk all that over with your family and friends so they know your wishes.  Hospitals will usually not just accept a written directive from the patient but will want confirmation from next of kin.

ICE card (In Case of Emergency) a short summary of your important medical information. Put it in your purse/wallet. Contacts, allergies and regular medications.  Medical staff know to look for an ICE card among a patients effects.
Documents
You may be sent to a different hospital than you expect or even a temporary one.  There may be trouble getting access to your medical records.
Have at least TWO paper copies of your medical details.  One to give to the hospital plus one to keep yourself AND an electronic version (PDF) that you can email.
A close relative/friend should also have a copy or access to a copy in cloud storage (preferably with password protection).
Get ready for hospital – have a 'go bag' ready
Prepare your computer for isolation or quarantine