Apple's new Macbook's use a totally new type of chip, the M1 or Apple Silicon. What does that mean for Microsoft Office and other programs?
We'll explain what Apple Silicon Macs are and why they are better. Microsoft Office compatibility with the new machines (it's messy at the moment) and whether to buy an Apple Silicon Mac.
Most programs are made for a specific CPU chip like Intel or now Apple M1 aka Apple Silicon. It's not a simple thing to run an existing program on a totally new type of main processor.
Nerd note: Apple M1 is an ARM chip. Essentially a souped-up version of the A14 chips already used in iPhone and iPad. ARM is a UK chip designer which licences their tech to chip makers like Apple.
The new hardware has many names; Apple Silicon, ARM based Macs, M1 chip. It's all the same thing.
[mo-click-launch id="hgIjBuxEgm" link="Sign up for the free
Office Watch for Apple
newsletter. In-depth help and money saving tips for everyone with an
iPhone, iPad or Mac
computer."]

Apple Silicon Macs promise 2x faster performance and better battery life. Exactly how much better isn't clear because so far, we only have Apple's claims to go by. The M1 chip has the main CPU, graphics, video and a neural engine all combined onto one chip. Apple Silicon Mac will wake up immediately, much like an iPad.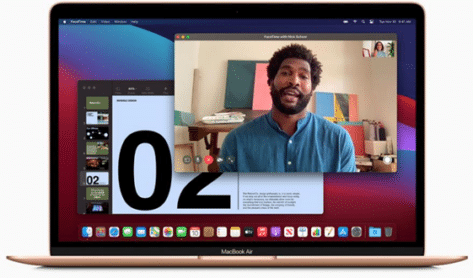 iPhone and iPad apps can run on Apple Silicon Macs though, without a touch screen on the Mac, the apps might be a little clumsy to use.
Rosetta 2
Apple has made the switchover easier by making 'Rosetta 2' which is a compatibility layer allowing older (Intel) programs to run on the M1 laptops. The downside of that is performance. Running programs through a translation layer takes up computer resources which means the programs will run more slowly. There's also a greater risk of bugs caused by problems with the Intel<>M1 conversion.
This isn't really new, Apple users have been through this before. The original Rosetta allowed Mac's with PowerPC chips run on the then new Intel based Mac computer. There were changeover troubles back then and there's sure to be some now.
Native M1 programs
It's much better to have programs designed to run directly on the correct CPU, in this case the M1.
Apple has already made M1 compatible or 'native' versions of their own programs like GarageBand, FinalCutPro and the Safari browser.
Of course, the new MacOS Big Sur v11 will run directly on the M1 chip.
Other companies like Adobe are already working on 'porting' their software to M1 chips.  That will allow their programs to make full use of M1 features and speed.
Universal apps
Programs that work on both Intel and the new Apple Silicon Mac's are called 'Universal' apps.
That can be a single program that works with both chips natively or the setup process installs whichever version of the app that suits the hardware.
Either way, customers should not have to worry about the details.  Just install or update and let the software figure out the best path.
Update: Microsoft has now released Universal (Intel/Apple Silicon) versions for Microsoft 365 and Office 2019.
What about MS Office and M1?
Microsoft has already announced that an M1 compatible version of Office 2019 for Mac is in the works. An Insiders (beta) version of this 'Universal' is out today. That's to let first adopters test Office on the new Apple Silicon Macs.
Update: Microsoft has now released Universal (Intel/Apple Silicon) versions for Microsoft 365 and Office 2019.
The current Office 2019 and Microsoft 365 will run on M1 Macs. According to Microsoft, the Office apps will pause for about 20 seconds when first started (after install or update), that's roughly how long it takes for Rosetta 2 to make an M1 compatible version of the app. That version is cached so later starts of the app should happen immediately.
Microsoft says that once the Rosetta conversion is done, the Office apps will run normally and without delay. Based on long experience, we doubt both of those assurances. There are always little compatibility problems and some speed reduction is almost inevitable in these situations.
Running Office now on Apple Silicon Mac
If you get one of the first Apple Silicon Macs you have some choices for running Microsoft Office:
Install Office 2019 or Office 365 public releases. They should work OK with the Rosetta 2 translator though slower than what's possible with a native / Universal app.

Any recent release should be OK but best to use the very latest builds. Recent Office releases will take Big Sur and M1 into account.
There's a conversion pause when first starting an Office app (after install or update) to make an M1 converted version. Later starts of the same app will happen without delay.

Office 2016 for Mac should work on Apple Silicon Macs with Rosetta 2 but we can't confirm that.
Switch to the Insiders Beta Channel with native M1 releases of Office 2019 or (eventually) Office 365. There may be bugs in these public test builds but should run faster than older 'Intel only' builds.
With any of those options, have a fallback position. Use Office for Windows in a virtual machine like Parallels), a remote desktop connection to another computer, using Office Online (the browser based versions of Word, Excel or PowerPoint) or the Office Mobile apps for iOS (which should run on an Apple Silicon Mac).
What to do?
We're cautious and won't rush out to buy a new Apple Silicon Mac. Changing the main CPU architecture is a big step and there are sure to be teething troubles.
Apple Silicon M1 chips should be an improvement in performance and battery life. They are the way forward for Apple Mac users. For the moment, let all the changeover hassles happen to other people.
Intel Macs will be around for some years to come and Microsoft will support Intel based Macs for the foreseeable future.
Apple is still selling Intel Macs, alongside the new Apple Silicon models. The change to selling only new Apple Silicon Mac's isn't expected until 2022 at the earliest.
Patience, Grasshopper
If you're thinking of getting a new Mac, our cautious advice is to wait until later in 2021. By then any teething troubles with Apple Silicon and software will have been sorted.
Aside from software compatibility concerns, there are worries about heat from the M1 chips, especially on the Macbook Air which has no fan.
There are also memory considerations because the base models have a measly 8GB of RAM (8GB is not a lot these days). Add US$200 for the 16GB memory option.
Office Watch for Apple – iPad, iPhone and Mac computers
Keep up with Microsoft Office on the Mac, iPad and iPhone.
Office Watch for Apple is our famous, free newsletter – how to get the most from Office on Apple devices. Tips, tricks and money saving advice.
Click here to join now. We've been running legitimate email newsletters for over 20 years. We never giveaway or sell our readers email addresses. Never have, never will.
Join Office Watch for Apple
All you need to know about Microsoft Office and Big Sur MacOS
New Apple emoji available now but be careful
Apple command ⌘ symbol in Word, Excel, PowerPoint and Outlook