One of our readers just saved over 20% on her Microsoft 365 renewal using one of Microsoft's own products – Outlook!
Julia A. a long-time Office-Watch.com reader took our advice about early renewal of Microsoft 365 (formerly Office 365).  She just bought another year of Microsoft 365 from a retailer for less than what Microsoft would have charged for an automatic renewal.
She paid $77 for Microsoft 365 instead of letting Microsoft charge the full price of $99.
Her secret?  She used Outlook!
Outlook reminder of Microsoft 365 expiry
Add an event/appointment for the Microsoft 365 renewal date with a long reminder before that, 6 weeks is good. See What's my Microsoft 365 expiry date?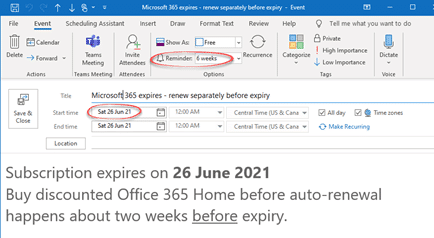 Julia saw the reminder pop-up, went shopping for a good deal and bought Microsoft 365 Family for less.  The Product Key she received is easily added to her existing Microsoft 365 plan, extending it for another year from the date of expiry.
Easy, simple, money saving and best of all
 "I used Microsoft's own tools to stop them getting more of my money."
Why reminder six weeks before expiry?
A few reasons for the month-plus reminder to renew.
Microsoft auto-renews TWO weeks before the stated expiry date.
To prevent Microsoft charging you full price, you must renew yourself before the company jumps in.
The other weeks give you time to look for a good deal.  Discounted prices sometimes only appear for a short time.
You might need time for delivery of a physical Microsoft 365 card with the Product Key.
What's my Microsoft 365 expiry date?
Find your Office 365 plan, expiry date and when Microsoft charges for renewal
Office 365 hack: get auto renew bonus month without paying more
6 steps to saving on Office 365 renewals or first purchase