Presenter Coach or Rehearse with Coach is now available in PowerPoint for iPad.
You can practice your presentation with Microsoft's systems 'listening' and giving advice on how to improve. Presenter Coach is already in PowerPoint 365 for Windows or PowerPoint Online on the web.
See Presenter Coach makes for better presentations to explain the details and limitations of the feature.
In PowerPoint for iPad, look on the Slide Show tab for Rehearse with Coach.

On first use you'll probably have to allow access to the microphone.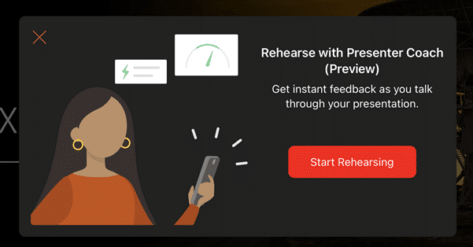 Then rehearse your presentation. Speak and move through the slides as you would before a real audience.
Use the Pause button if necessary. Click the Stop button to end.
Rehearsal Report
See the Rehearsal Report which tracks mistakes like fillers, sensitive phrases, lack of originality and monotone delivery. The pace of speech is displayed.
Click Rehearse Again to have another try or exit from the X at top left.
Presenter Coach makes for better presentations
Four ways to put Microsoft Office on your iPad
Office Watch for Apple – Mac, iPhone, iPad