The dread Clippy, the paperclip with eyes, is still hiding in Windows and Office. The Windows 11 emoji panel and Segoe UI Emoji font have Clippy instead of a plain old paperclip that other apps use.
Use the Emoji Panel in Windows 11 (Win + . ) and search for 'paper' you'll see various options including 'paperclip'.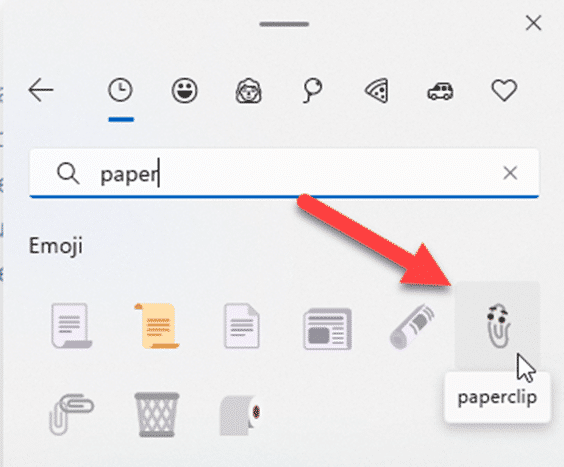 Drop that into a document and increase the font size to see that Clippy has popped up, yet again.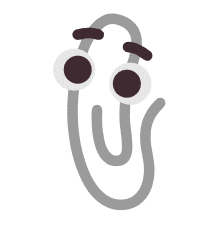 It's the same story if you use Word's Alt + X shortcut to enter the symbol directly type 1F4CE then Alt + X.
That's quite different to other platforms like Apple, Google, Facebook and Twitter which all have normal looking paperclips that are more in line with the Unicode specification.
Some Windows apps have their own emoji collection so there can be a different look to the emoji in the Windows Emoji Panel and when it's inserted into the app.
Why does the same emoji look different?
It all depends on which font is used to show the emoji.
Letters or numbers can look different, depending on the font. That also happens with emoji.
Windows uses the Segoe UI Emoji font to display emoji. It's the only Microsoft supplied font that keeps up to date (almost) with emoji.
It seems Microsoft decided to have a little fun or spread their branding of Clippy.
It's worth keeping in mind because if you use the paperclip emoji in a document, sheet, slide or email it'll look quite different when opened on another device.
Here's the same example paperclip document above, as it appears in Windows 10, iPhone, iPad, Mac or Android devices.
The exact look of each emoji can change with updates to the operating system, which can include changes to the emoji font.
Why has Microsoft (finally) trademarked Clippy?
Microsoft digs into their past for new Teams backgrounds including Clippy
Emoji Panel is part of Windows that totally sucks