WOFF are a new-ish type of font that you might have seen mentions or downloads. Here's how to use them in Microsoft Office; Word, Excel or PowerPoint.
WOFF is Web Open Font Format designed to be compact and easy to download.  WOFF is for web sites and mobile apps, not desktop programs like Office.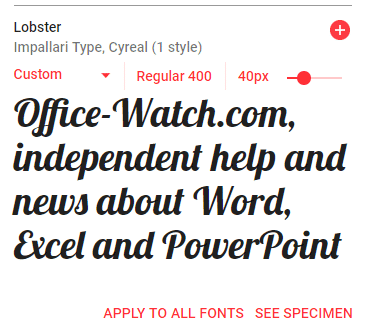 Despite that, there are two ways to get a WOFF font working in Office. One method is practical and useful, the other is theoretical. Office-Watch.com readers expect us to try the more 'interesting' options too.
Find the desktop font instead
WOFF fonts are versions of standard fonts. They are normal fonts, optimized for web pages and compressed for fast transport.
Any WOFF font is almost certain to have a desktop version. Instead of trying to make a WOFF font package work in Office, search the web for the standard version of the same font.
Google Fonts is a good place to start. A large open-source directory of fonts, see Using Google Fonts for free in Microsoft Office.
Unpack a WOFF font
It's theoretically possible to unpack a WOFF font into a form compatible with Office for Windows or Mac. Frankly, it's not worth the trouble since it usually doesn't work and there's the easier alternative available.
WOFF fonts are a compressed package of web optimized fonts. Technically WOFF is called a wrapper for OpenType or TrueType fonts which are supported in Windows and Mac.
However, WOFF doesn't use a common compression method like ZIP or RAR, so specialist tools are necessary. WOFF v1 & v2 use different compression methods.
If you want to try there are various WOFF decompression tools available. Try these online conversion tools:
https://everythingfonts.com/woff-to-otf
https://everythingfonts.com/woff-to-ttf
We tried a series of WOFF fonts and only a few could be successfully unpacked. It was much faster to download the desktop version of the font directly.
Using Google Fonts for free in Microsoft Office
Check out the five new fonts in Microsoft 365
Google Font recommended pairing