How to view a .msg file in either Windows or Mac. .MSG are Outlook for Windows message files which aren't supported on Outlook for Mac, let alone Outlook mobile or in a browser.
We've already explained about Outlook .msg files and why they are NOT recommended. In short .msg files are made by Outlook desktop for Windows – no other 'Outlook' software can read them.
Warning: a .MSG file could contain a virus infected attachment (just like an email with malicious attachment). Make sure you treat any .msg file and included attachment with the same caution as any other incoming file.
Outlook for Windows
If you have Outlook for Windows installed, reading a .msg is easy.

Just double-click on the file or email attachment and it should open in Outlook for Windows.
.msg file extension is associated with Outlook by default.
If you don't have Outlook for Windows, then Microsoft won't help at all. Outlook for Mac doesn't support .msg, nor does the various Outlook mobile apps for iPhone, iPad or Android.
Online .msg viewer
The quick way to view a .msg is to use an online viewer such as https://www.encryptomatic.com/viewer/ .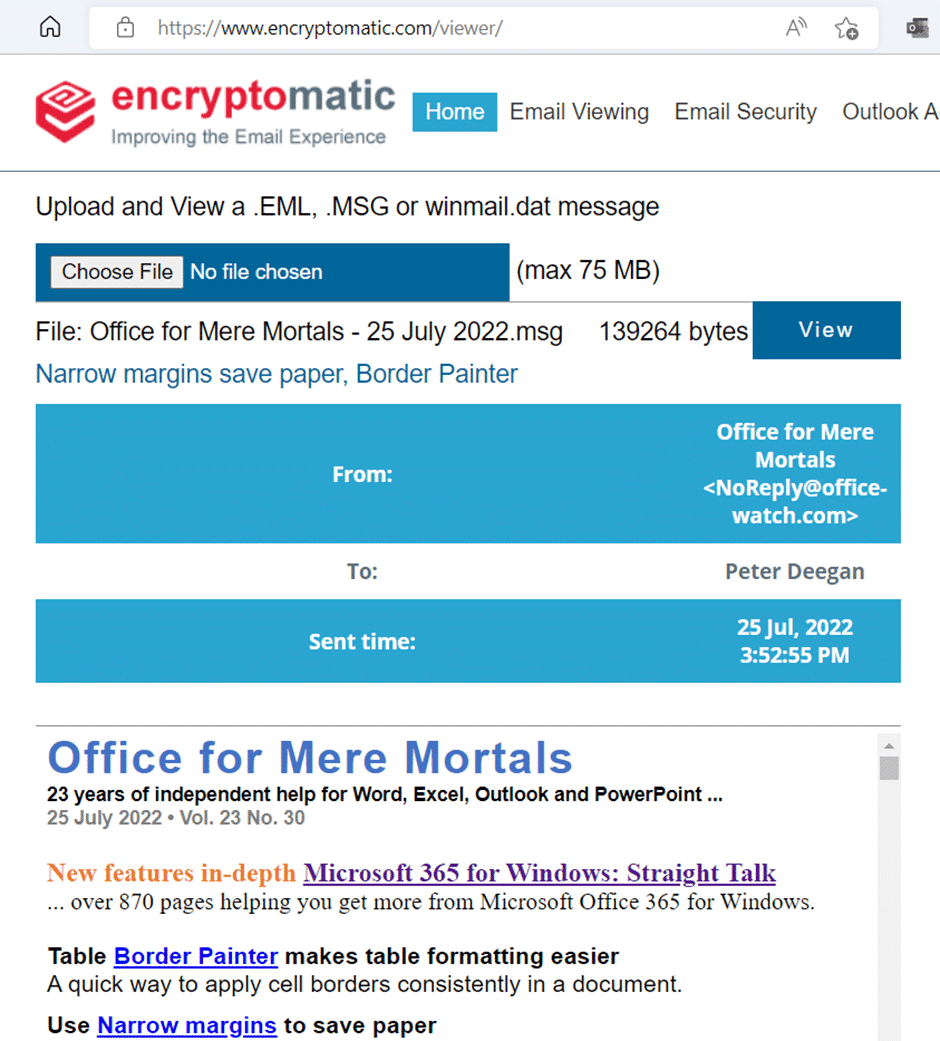 Upload the .msg file and the site will do a good job rendering the message on their web page.
A few limitations to keep in mind:
As with all online viewers/converters, there's a privacy consideration if the .msg contains personal or confidential info.
.msg are limited to 75MB size. That's very large, larger than most email systems can handle so it should not be a big concern.
Tip: the site has no export option but you can select the whole message (click in the message part of the web page then Ctrl + A to select all). Copy the message into Word or some other text editor for saving on your computer.
.msg viewer for Mac
If you regularly get .msg files on a Mac computer, then a separate .msg viewer is the way to go.
MSG view for Mac will view MSG, EML and Winmail.dat files.  The trial version shows only the start of longer messages and excludes attachments.  The full version costs US$18.99 at https://msgviewerforoutlook.com/
When you first start MSG Viewer, setup the default mail client for your computer (likely either Mail or Outlook for Mac). Then double-click on any .msg files which will be converted and opened in your mail client.
.msg viewer for Windows
If you have Windows but not Outlook for Windows then you'll need a third-party viewer.
There are various .msg viewers for Windows, we prefer the one from SysTools because they are a known and reliable provider of useful utilities.
FreeViewer MSG File Viewer Tool does the job well with probably more options than most people will need. 
There's an option to Export the message to a PDF file or print it.
The free version should be enough, there's a Pro version for US$69.
Outlook .MSG files, what are they and why to avoid them