Inspect without color is one of the more interesting and useful Accessibility tools in PowerPoint 365. It shows a slide in 'black and white' or 'greyscale' which is useful for more than helping color blind people, Inspect without Color can help improve the readability and design of any slide.
Inspect without color is designed to help ensure that a slide still makes sense. This slide doesn't work properly because the chart only has solid color lines and there's no way to tell which line shows what.
The quick Accessibility fix is changing two of the chart lines to dots or dashes.
Same slide – different perspective
Even if your audience all have good vision, Inspect without color is useful to give you a different perspective on the slide. Are you relying too much on color?
Does your slide still look clear and readable in greyscale? If it does, that's an indication that it'll be legible to your audience, especially if they are at the back of the room, far from the screen.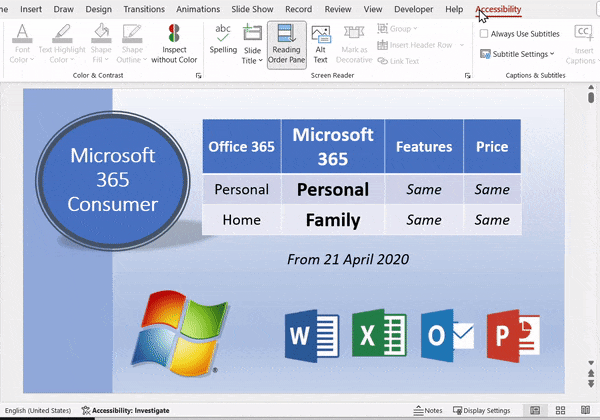 Get to the Accessibility tab
The Accessibility tab is a good idea for Office apps, but why is it so damn hard to find?
If you thought that there'd be a simple 'View Accessibility tab' button on the View or Review menu – think again. That would have been too simple or, dare we suggest, Accessible.
Go to the Review tab then Check Accessibility and finally either Check Accessibility, Alt Text or Reading Order Pane.
Any of those three options opens a right-side pane plus the Accessibility tab.
Check Accessibility problems as you work in Word, Excel and PowerPoint
How to use Excel's Accessibility Ribbon 
Fixing common Office document accessibility problems