A few years ago we had a close look at the Oxford Comma ('Comma required before last item', serial comma, Harvard Comma etc) in Word 2013.  We'll now repeat those tests with the new "Microsoft's own" grammar system to see if there's any improvement.
Office-Watch.com has already noted that the options for the Oxford Comma checks have degraded from past versions of Word. Now you can only check for the presence of an Oxford Comma.  Word 2013 and before would test for the Oxford Comma or warn if it's NOT there as well as not checking at all.
Here's a comparison between the new Word 2016 style check system and the older Word 2013 version.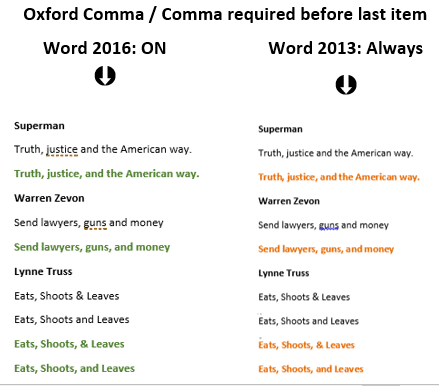 The 'Superman' test was missed in Word 2013 but that bug has been fixed in Word 2016.
The 'Lynne Truss' example isn't really an Oxford Comma test.  We've left it in because it was part of the original test.  Word 2013 wrongly marked the phrase when set to 'Never' – this has been fixed in Word 2016.
Microsoft giveth and Microsoft taketh away
Yet again, Microsoft gives the customer an improvement in Office, but takes something away at the same time.
We get an improved detection of the Oxford Comma. Strictly speaking, the absence of the extra comma.
Haters of the Oxford Comma  can't check for the additional comma, which is a shame.
Why did Microsoft drop the Oxford Comma 'Never' option?
Maybe they decided that the Oxford Comma is correct and decided to impose their grammatical will?
More likely, it was a budget decision.  Microsoft management is under pressure to cut costs so perhaps it was decided to trim the budget by dropping the (minor?) costs of keeping the 'Never' option?