A pop-up message to Office 365 / Microsoft 365 says there are 'more benefits'. Are there extra benefits in Microsoft 365 or is it more Microsoft hype?
This dialog appears after an update to Office 365 ….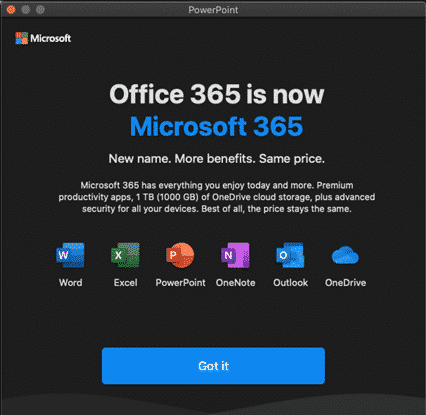 Office 365 is now Microsoft 365
New Name. More benefits. Same price.
Microsoft 365 has everything you enjoy today and more.
… plus advanced security for all your devices.
That's Microsoft hype. New Name and Same Price is right but More Benefits?
There's no change in the benefits and features between Office 365 on its last day and Microsoft 365 on the following day – 21 April changeover day.
There's the usual rolling updates and changes but nothing related to the name change.
Advanced Security for all your devices?
What does that refer to? There are no security features added by Microsoft 365 to Mac, iPhone, iPad or Android devices. Even in Windows there's no extra security added by Office 365/Microsoft 365.
Maybe it's an overstated reference to some of the basic security options (like macro blocking) that's in all Office apps.
Or the additional mail filtering available in enhanced Outlook.com accounts which is a very specialised and narrow case.
Having it both ways
Microsoft marketing is trying to have it both ways. On one hand they reassure that 'Microsoft 365' is just a name change and things continue as usual.
But they can't resist the chance to use the rebranding to promote existing features as something fresh.
It's Microsoft 365 day – what changes today?
Microsoft 365 licences, are you paying too much and for too many?
Microsoft 365 summary that's readable!