Had you wondered what's happening with the Outlook replacement: Project Monarch? Seems we won't have to wait much longer to see a preview.
Project Monarch is a Progressive Web App (PWA) that will run in your browser.
It will have email, contacts, calendar and perhaps other 'Outlook-like' features. A Progressive Web App looks like a normal program but is really a complex web page running with browser technology behind it. Think of a web page like webmail.
Don't panic. The current Outlook software for Windows and Mac isn't going away anytime soon.
Since the original strategic leaks ( see Project Monarch or One Outlook to rule them all ), things have gone very quiet except for the news that 'Monarch' will be known just as "Outlook".
Microsoft wants to call all their email etc programs just 'Outlook' presumably to add confusion for their own support staff as well as customers <sigh>. The original name, "One Outlook", has been dropped probably because it was too obvious to customers and helpers.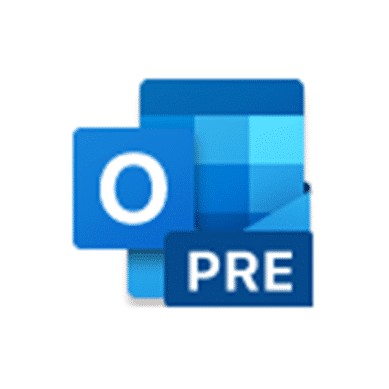 Thanks to Walking Cat we know that a PREview version is near release. There's a new icon with the magic letters PRE for Preview.
Microsoft's eventual aim is to replace Outlook for Windows/Mac with a browser based web app but they are a long way from achieving that goal.  And that's assuming it's even possible to get the complex features and speed of Outlook software replicated in a browser app that works offline as well as online.
Don't be surprised if the new Outlook is limited to Exchange Server mailboxes, including Outlook.com .
Be wary of excessive promises and lots of fine print conditions. "Project Monarch", "One Outlook" or whatever it's called has a long way to go.
Project Monarch or One Outlook to rule them all
Project Monarch is now called just Outlook