Does Office 2021 or Office 2019 insist on a Microsoft account Sign-In (login) to use the software and edit documents? We've done some tests to check and we'll explain the details too.
It's a good question. Microsoft 365 software does require a Microsoft account login but what about the 'perpetual licence' Office 2021 or Office 2019? See All about Office 2021 for Windows & Mac
Some customers are understandably concerned about companies peeking into their life and work. They'd prefer to work anonymously as much as possible.
We've done some tests on both Office 2021 and Office 2019, the answer is – NO sign in is required. Microsoft certainly encourages customers to sign in with a Microsoft account but it's not compulsory.
How to sign out of Office 2021/2019
To logout of a Microsoft account, click on the account name and icon at top right, then choose Sign Out. There's a scary looking warning from Microsoft.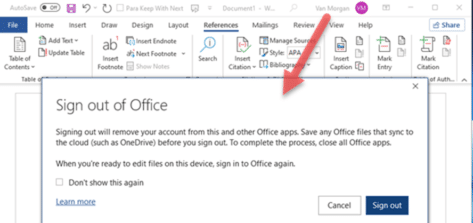 The 'warning' isn't entirely accurate. It says more about Microsoft's desire to have all their customer logged into their system.
Sign out of Office

Signing out will remove your account from this and other Office apps. Save any Office files that sync to the cloud (such as OneDrive) before you sign out. To complete the process, close all Office apps.

When you're ready to edit files on this device, sign in to Office again.
The first paragraph is almost accurate. Any cloud stored files should be saved (to the cloud or a local drive) before logging out.
However, if you're using the OneDrive app to sync files then you'll still be able to work with OneDrive documents be opening them in the local OneDrive folder. See Two ways to open a OneDrive document in Microsoft Office
The second paragraph is wrong according to our tests. Editing files in Word, Excel or PowerPoint is quite possible without signing in. Here's Excel 2021 open with a worksheet and Word 2021 also open, ready to make a new document or work on an existing one.
As you can see above, if the app isn't signed into a Microsoft account, a 'Sign in' prompt remains.
Access to cloud features like Stock photos and graphics
Somewhat to our surprise, the few cloud features in Office 2021 work without a Microsoft account login. Here's the Stock Images, Icons, Cutout People, Stickers and Illustrations all available for download even though Word 2021 isn't signed in.
Office 2019 also works without Sign In
Office 2019 operates the same way. Microsoft encouraged customers to sign into a Microsoft account (with the same warning message) but Microsoft account sign-in is not necessary.
Office 2021 and OneDrive
While it's convenient to access OneDrive saved documents via the Office File | Open dialogs there is an alternative.
The OneDrive app for Windows and Mac lets you sync your online storage with local folders. Office 2021 can open those locally stored documents. After you've changed the documents, they'll be copied back to OneDrive. The OneDrive app will need a Microsoft account login, obviously.
On the other hand. Office 2021 doesn't include any extra OneDrive storage. Free OneDrive has 5GB 'only' but that's a lot of Office documents!
Activation
Software activation, after installation, does require a Microsoft account. However, after activation, the MS account isn't necessary for ongoing use.
Why the Microsoft account login at all?
If Office 2021 doesn't need a Microsoft account sign in, why is it there at all?
Microsoft's position is that with a sign-in you can access any OneDrive files directly from the Office apps. They may have other, unstated reasons too.
Sign in difference Office 2021 vs Microsoft 365
The changed login requirement for Microsoft 365 vs Office 2021/2019 makes sense because the software licence is different for each.
Microsoft 365 consumer plans are linked to individual person (strictly speaking a personal Microsoft account). That's why an MS account login is required to use the apps.
Office 2021 and Office 2019 licences are linked to a computer. After activation on that computer, no MS account is required to prove your entitlement to use the software.
All about Office 2021 for Windows & Mac
Office LTSC 2021 explained, the good and bad
Two ways to open a OneDrive document in Microsoft Office