Occasionally OneNote pages or whole notebooks go missing … here's eight places to try finding them again.
Don't Panic
OneNote saves everything … it was designed that way from Day One.
It's unlikely that something has truly been erased. More likely that the page, section or notebook is hiding somewhere in the depths of OneNote, OneDrive or your computer.
The trick is knowing where to look.  Here's some places to check, the exact options depend on your OneNote program, app or online.
Search
If you know a word or two on the missing pages, hopefully search will find them.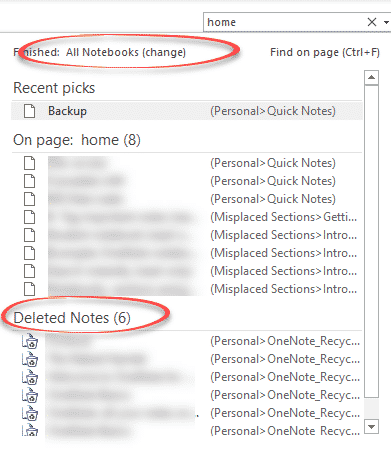 The default search is All Notebooks, meaning all open notebooks.
The search results will include any matches in Misplaced Sections (see below) and deleted notes in the Recycle Bin (also below).
Recent Edits
Recent Edits is a bit like Word's Track Changes. You can see the changes made over days, weeks or even months. Changes including deleted text and other content should be here.
Look on the History tab for Recent Edits.
Page Versions
Another possibility is past versions of a particular page. Right-click on a page tab then Show Page Versions.
Notebook Recycle Bin
Another History tab option is the Notebook Recycle Bin.
Any deleted pages will show up here.
There's a separate Recycle Bin for each notebook. Select one from the list at top right.
According to the warning, items are permanently deleted after 60 days. We've found pages in the Recycle Bin a lot older than that.
Recycle Bin items can't be edited (Read Only). Restore by moving to a notebook.
Misplaced Sections
Under the Notebook list is the Misplaced Sections, er, Section.
Misplaced sections happen during a sync when OneNote can't find a home for a section.
Backups
OneNote has backups by the notebook. File | Info then Open Backups.
OneNote backups are imaginatively given .backup extensions.
Searching for OneNote notebooks
Perhaps your notebook isn't listed in OneNote? Most OneNote notebooks are saved on OneDrive. To find all your notebooks, go to the root folder of OneDrive in a web browser, then search for *.one across the entire OneDrive account.
OneNote notebooks saved on a computer can also be found searching for *.one  or  *.backup files.
Other backups of OneNote notebooks
Keep in mind that OneNote notebooks are files (.ONE files) which can be backed up just like any other file. That means you can find older notebooks in the places backups are stored:
OneDrive – and other cloud storage keep past versions of files and documents. The version retention age depends on the service and plan.
File History – for locally saved .ONE notebooks, they would normally saved by Windows File History (highly recommended for all Windows users).
Time Machine – the macOS equivalent of Windows File History.
Saving OneNote notebooks be saved locally and not in the cloud
OneNote for Windows changes now clarified, sort of
Quickly see which OneNote app you have on Windows
Immersive Reader returns to OneNote
Microsoft kills OneNote for Windows