If you're having trouble with Office for Windows, try these tips first. They might fix the problem or help narrow down the cause. You'll often get these suggestions from Microsoft Support or forums.
They are things to try before asking for help with a Microsoft Office problem for two reasons:
These steps can help narrow down the source of the problem.
It's likely that support/forum people will make these suggestions anyway, so you might as well get in first!
Support staff might make these suggestions not because it's a specific known fix.  It's the modern equivalent of the old "turn it off and on again" support trope.
They are really generic Office fixes rather than specific help for a particular problem.
Get Office up to date
It's possible that you've struck a problem that's been fixed in a recent Office update.  Go to File | Account | Office Updates | Update Now.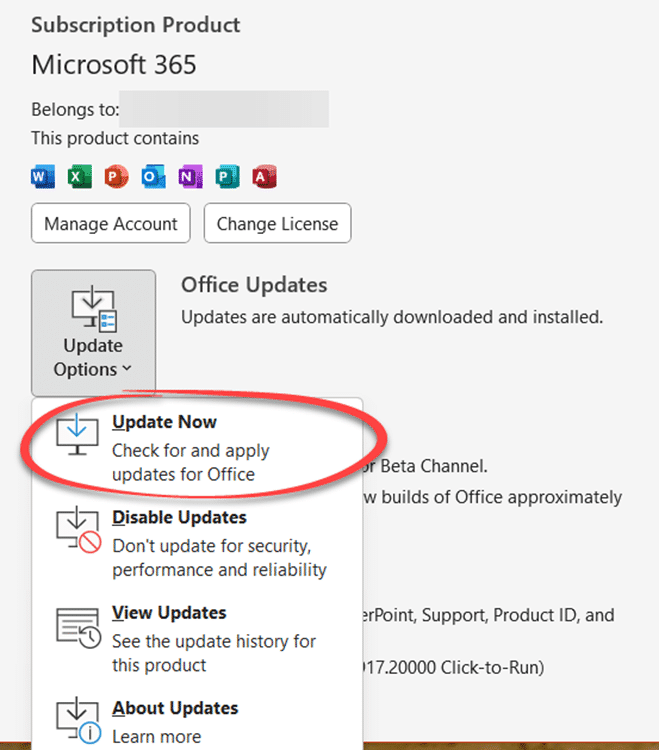 There's a small chance that the problem is related to Windows so you might also go to Settings | Windows Update to make sure there's no outstanding patches available.
Office add-ins
Add-ins for Office are often blamed for unexplained problems – sometimes rightly but more often wrongly blamed.
Despite that, disabling any Office addins is a necessary step in narrowing down the source of the problem.
Go to File | Options | Add-ins and look for
Active Application add-ins
Document related add-ins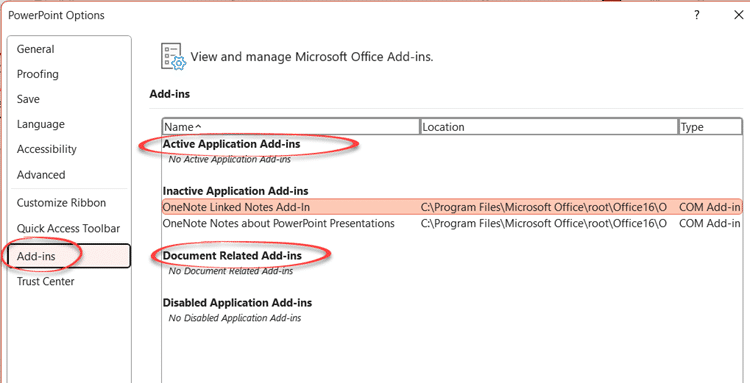 If that fixes the problem, try enabling the add-ins one-at-a-time until you find the add-ins that's conflicting.
Disable Connected Services
Too often, the modern Connected Services are an additional complication to Microsoft Office. Disabling part or all Connected Services might workaround a problem or, again, narrow down the cause.
Alas, blocking Connected Services is a little like "cutting off your nose to spite your face", because you'll lose some useful features.
Changing the Connected Services settings apply to all Office apps, not just one.
It's not possible to disable individual Connected Services (we wish it was so), all you can do is stop the services in two groups or all of them.
Go to File | Options | Trust Center | Trust Center settings | Privacy options | Privacy Settings and scroll down to "Connected Experiences"
UNcheck either or both of …
"Turn on experiences that analyze your content"
"Turn on experiences that download online content"
Scroll down a little more to disable everything by UNchecking
"Turn on all connected experiences"
Use the default template
Where applicable, make sure the problem isn't in a specific document, sheet or presentation by testing with a blank document using the default template from File | New | Blank ….
Office Safe Mode
Starting an Office app in Safe Mode might workaround a problem or help narrow down the cause.
That's mostly because Safe mode disables most add-ins and connected services to open the program in a basic, simplified way.
However, when you restart Office normally, the same problem will likely reappear. In rare cases, Safe mode might fix the problem.
Repair Office
Try repairing Office.  Go to Control Panel | Programs and Features … find Microsoft Office or Microsoft 365 then choose Change.
Try Quick Repair first. If that doesn't help, there's the slower 'Online Repair' option.