What to do if you get the "Sorry, something went wrong" error message trying to use PowerPoint's Reuse Slides feature.
This error message might appear if you're trying to use PowerPoint's Reuse Slides feature. It seems to happen only for non-business users (for example Microsoft 365 Family/Personal plans).
The current error message is both non-specific "something went wrong" (what 'something'?) and usually misleading "check your network connection".
"Sorry, something went wrong. Please check your network connection and try again."
There's no specific fix available because Microsoft hasn't acknowledged this as a bug.  All anyone can do is suggest some fixes or workarounds.
Office Watch tests have found two workarounds – they partly work and are an inconvenience but they are we have until Microsoft pulls it's "proverbial" out.
Check Network Connection
First thing to do is check that the network Internet connection really is working.  The error message is usually wrong in suggesting there a problem with "… your network connection" but it's still worth checking.
Look at the network status icon on the Windows taskbar or just open/refresh a browser window to make sure there's Internet access.
Most likely the Internet connection is working so you'll have to try other fixes or workarounds.
Switch to a business/work account
Reuse Slides works differently for Microsoft 365 business customers and we can get the feature working by just switching from a personal account to a work account (if you have one).
Modern Office has "Instant Account Switching", just change from the personal login to the work login (leaving the PowerPoint presentation open).  Reuse Slides should now work (note: no change in network connection!).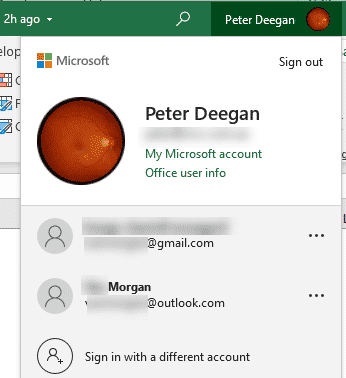 This workaround has a downside – the presentations found by Reuse Slides will be based on your business account storage settings (OneDrive/Teams/SharePoint) that could be different from your personal account. But you can browse from Reuse Slides to any folder.
Disable some Office online services
A partial fix to try is disabling part of the Office cloud services or "Connected Experiences" in Microsoft speak.
Go to File | Options | Trust Center | Trust Center settings | Privacy options | Privacy Settings and scroll down to "Experiences that analyze your content"
UNcheck the option "Turn on experiences that analyze your content" then restart PowerPoint.
This almost fixes the problem on our test machines.  Reuse Slides still can't search or browse presentations but at least the option to select a presentation appears.
It's not a proper fix because unchecking the Connected Services feature also disables things you might want like PowerPoint Designer and other services for all Office apps.
Come on Microsoft … fix this!
The real question is why Microsoft hasn't done anything to fix this. Just looking at various forums shows that this bug has been around for a few years yet nothing has been done.
Even if a proper fix is hard, surely the massed minds at Redmond could at least stop the silly "Something went wrong" message or supplement it with the "Insert slide from .." option that currently appears when Connected Services are disabled.
As it stands, it looks like Microsoft is willfully ignoring this bug perhaps because it 'only' happens to consumer customers and not business users.
Reuse slides in PowerPoint, the good and the annoying
PowerPoint gets a Portrait mode for iPhone and iPad
Kerning text simply explained for Word and Powerpoint
PowerPoint ending slide ideas