Outlook can link to external, shared, calendars and copy any updates to that calendar using either a .ics tile or a webcal link. An Internet calendar can be for public events, holidays, sporting fixtures etc.
They can be a one-time copy of event details or you can setup Outlook to check for updates to the original, source calendar and have them appear automatically.
Like many parts of Outlook for Windows, it hasn't changed much for many years.
ICS or Webcal
First, you need a link to the shared calendar. That link can be in one of two types:
.ICS – a standard http web link with a .ics extension
ICS files can be downloaded then added into an Outlook calendar as a 'one-time' job. Or the .ics can be linked from the Internet and auto-updated when/if the .ics is changed online.
Webcal – these links start with webcal://
ICS or Webcal links are widely available. Many sports teams have a calendar of fixtures with the good ones updated to show the results.
Outlook for Windows
To add a shared calendar to Outlook for Windows, go to the Calendar view. On the list of calendars right-click on My Calendars or Other Calendars | Add Calendar | From Internet. Or Home tab | Manage Calendars | From Internet … does the same thing.
As you can see, the feature has been in Outlook for a long time, just the menu design has changed.
Copy the .ical or webcal:// link into the field and click OK
Wait a moment while Outlook grabs the data from the Internet. The events now appear as a separate calendar in the calendar list at left.
Updating the online calendar
Updating
The internet calendar will be updated automatically from the source when Outlook is checking for mail, RSS feeds etc. Go to Send/Receive | Send/Receive groups | Define Send/Receive groups | All accounts | Edit has an 'Internet Calendars' account to control this.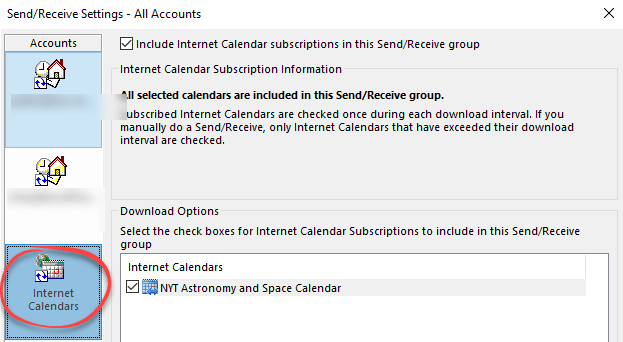 The default is to update automatically, so you don't need to set or change this.
Check times and Time Zones
The event times should be checked and, if necessary, converted into the local time zone for your computer and Outlook. Outlook will convert the events into your local time zone (as set on your computer) BUT only if the .ics / Webcal info includes a time zone with the event times. Alas, many don't bother.
Ideally, the shared calendar should have time zone details with each event, but sometimes the calendar maker doesn't do that.
Check the new events to make sure they have been added with the correct time in your location. We use TimeandDate.com Time Zone converter to check one or two events in the new calendar to make sure they are right.
Viewing
In the left pane of Calendar view, there's a list of calendars available. Check the calendars you want to see.
Modern Outlook has options to view multiple calendars side-by-side or overlaid.
Effective Outlook Calendars has a whole chapter on adding calendars to Outlook and the many options for viewing multiple calendars together.
Add an iCalendar .ics to an Outlook calendar but be careful
Outlook calendar tricks & traps adding from links and .ics