Make better and faster images with Bing Image Creation, Dall-E and other AI tools using a few simple tricks.  Here's some ideas and comments with plenty of examples.
If you've tried Microsoft Designer, Dall-E or other AI image makers, Bing Image Creation is nothing new and works the same way.  See What is Dall-E and what it'll do for Microsoft 365 customers however Microsoft doesn't have any equivalent to Dall-E's amazing 'outpainting'.
Be Specific
The best results come from including details in your request.  Instead of saying "four people" (see above bottom-right and below), ask for something like "two men and two women" or "two short men and two tall women".
For our 'Koala under the sea' example (top-left above and also below), we specifically said 'above coral reef' so the AI would add some colorful coral instead of a plain seabed or seaweed.
In practice, you might want to start with a general request to see what happens, add specifics to refine the AI's choices, then select a visual style.
Pick an object
Start by choosing an object/s or person to put in the image. Again, details make for a better result.
Choose an action – optional
Adding an action (standing, walking, running, hopping) or a mood (happy, sad, bored) helps make a better image.
Choose a visual style
Unlike other image makers, Bing Image Creation mostly defaults to photo-realistic images if no style is requested.
Mostly it's better to choose an image style either a general style (drawing, watercolor, crayon, steampunk) or a specific artist (Picasso, Dali, Canaletto).  At last, my two years studying Art History have been of practical use!
Just for photo styles there are many choices available. Lighting (daylight. dusk, dawn, bright white) and lens (85mm, 35mm, 22mm, telephoto, wide angle).
Select a background for easy removal
If you want an image to use elsewhere without background detail, ask for a specific color background which is easier to remove with the 'Remove Background' tool in Microsoft Office or almost any other image editing software.
In our tests the background was always a gradient even if 'solid' and 'no gradient' is requested.  That's annoying but it's still possible to remove the background.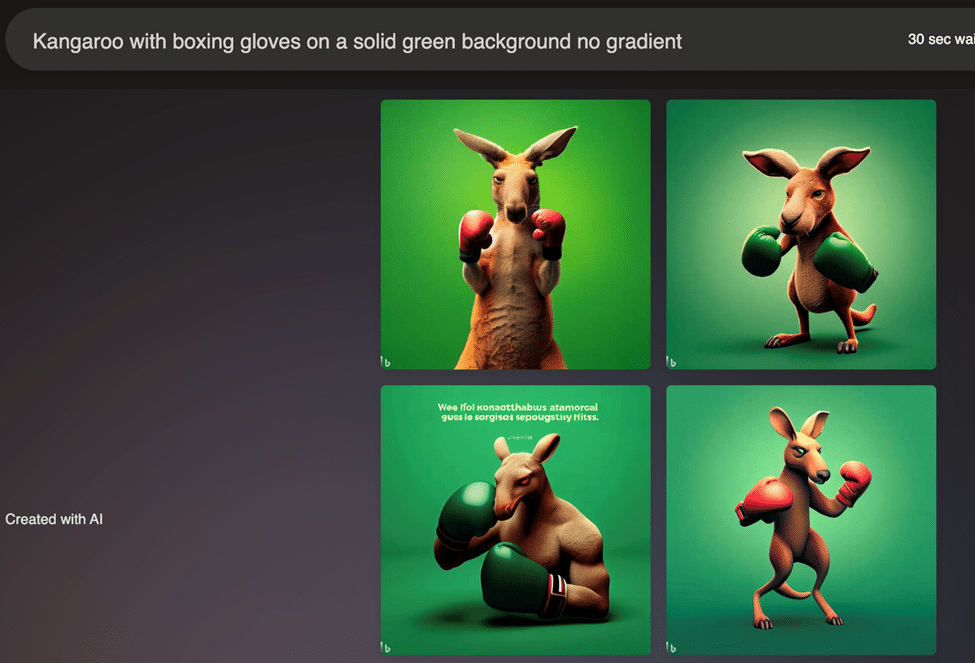 Choose the background color carefully to ensure it's very different from the colors in the image you want. For example, the top-right and bottom-left will be more difficult to work with because of the green boxing gloves. Fix that by requesting a different background (e.g. blue or purple) or adding a color for the gloves "Kangaroo with red boxing gloves".
Cat on sofa reading book with coffee mug
Bing's default is mostly photograph style but, as you'll see, the same request can look very different when a visual style is added.
… as a cartoon
We let Bing choose but could have ask for a specific cartoon style.
… as a watercolor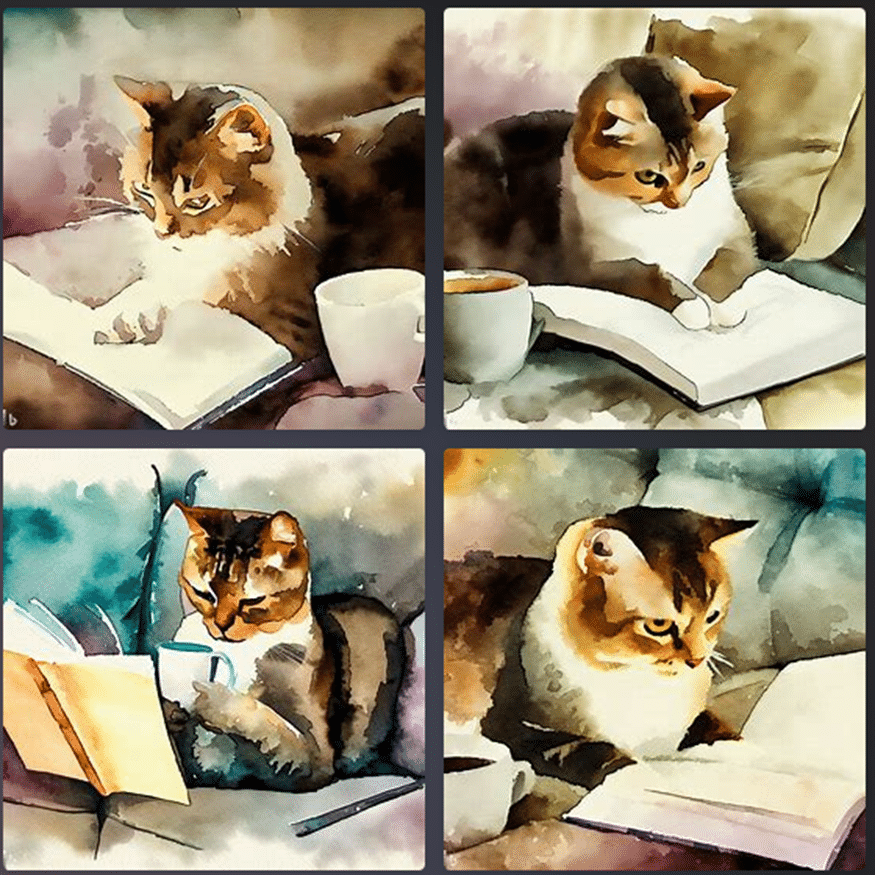 … in the style of Salvador Dali
Woman working at laptop in office with window
AI image makers have been criticized for being 'too white' with the people depicted. That seems to be a bias created by the vast library of Internet images used by the AI software (which aren't as diverse as the global population) rather than something written into the software.  In this example, two of the women are Asian which suggests that Microsoft has either skewed their AI to compensate or broaden the image database.
The text request can include specific types of people (white, black, Asian etc), hair color, age or other characteristics like style or color of clothing.
…. In the style of Edward Hopper
Edward Hopper called himself a 'painter of light', his strong light and shadows make for good image contrast.
Four people looking at a computer screen in office with window
Some of the faces aren't very realistic, especially in group shots. The bias towards white people is clearer in these examples but could be fixed by being more specific than just 'four people'.
… In the style of Frida Kahlo
Koala scuba diving above coral reef
AI generated images can be quite unrealistic and fanciful.
Make your own pictures in a flash with Bing Image Creation
What is Dall-E and what it'll do for Microsoft 365 customers
Background Removal Tool for pictures in Office