Word's Citation and Bibliography support is enough for some people, but not for everyone so here are tools available to go beyond what Microsoft provides.
See Add a Bibliography to Word documents
Custom Bibliography formats or styles in Word
Citations for everyone in Word
Source Manager for citations in Word
JabRef
JabRef is the commonly used, multi-platform tool for maintaining citations and bibliographies.
It goes way past the primitive Microsoft Word features, in particular a web lookup component to grab all the details of a source. In Word you have to manually look them up and paste into each field.
JabRef works around BibTeX, the standard LaTeX bibliography format. BibTex can be exported to Microsoft Word (on the Word side References | Manage Sources | Browse then select the XML file exported by JabRef).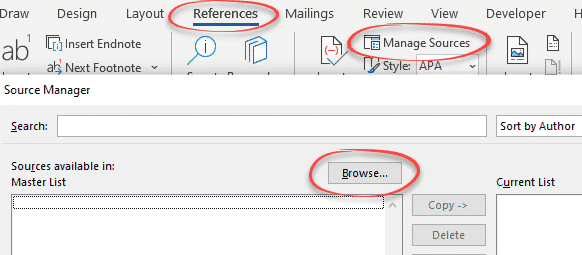 There are differences between BibTeX and the Word sources which are detailed at http://help.jabref.org/en/MsOfficeBibFieldMapping
Bibtex4Word
Alternatively, you can use the BibTeX database directly in Word.
Bibtex4Word by Mike Brookes at Imperial College, London might suit some specialist needs.
See the Quick Start guide and especially the installation guide.
Add a Bibliography to Word documents
Custom Bibliography formats or styles in Word
Citations for everyone in Word
Source Manager for citations in Word