Office-Watch.com ebooks give great value to our readers. The low price is just the start. There's also free updates to the book available to past and new customers.
Real-Time Excel has just been updated to include more chapters and example documents.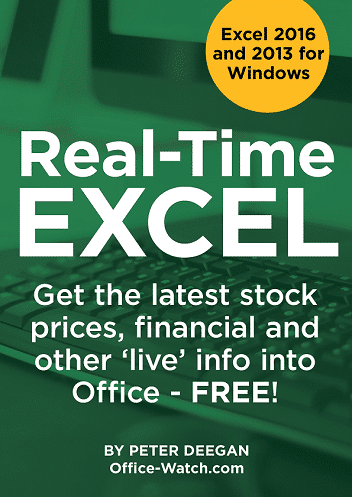 The update is available now to past purchasers who login to their ebook account and download a complete replacement.
Start updating your worksheets today.
New customers get the complete book immediately on purchase.
Bitcoin and crypto-currencies
How to get the latest price, volume and other details for Bitcoin and other virtual currencies compared to US, Canadian or Aussie dollars, UK Sterling, Euro and other real currencies.
Real-Time Excel has a sample worksheet and query ready to use in your own spreadsheets.
Make your own data feed
Some readers asked if they can share information making their own data feeds – sure! Small businesses can make a product catalog that can be used in Excel by customers and agents. One reader asked about publishing sports results as data for club members to import and analyze.
In an entirely new chapter, Real-Time Excel shows how to format data that other people can use with Get & Transform / Power Query. There are two simple options, a web page table or an XML file. We show how to use either method including how to make an XML file from an Excel table (which is more complicated than you'd expect).
Put the latest stock prices, exchange rates, Bitcoin even weather details automatically into Excel, Word and PowerPoint.
Full Color
over 125 pages
Ten sample documents, ready to use, included with full explanation in the text.
Fast find, table of contents with links
PDF format compatible with Windows, Mac, Apple and Android tablets and pretty much anything else including, of course, iPads!
Excel 2016 for Windows and Excel 2013 for Windows.
Excel 2010 and Excel 2007 (Stock Prices and Exchange Rates only).
There's no need to retype details from a web site or (shock!) a newspaper when Office can do the job in the blink of an eye.
Real-Time Excel shows how to get 'live' or real-time data automatically into your Office documents.
Stock Prices, fund values, indexes etc.
Currency Exchange Rates
Bitcoin and other virtual currencies
Weather
Getting those details into Excel, Word and PowerPoint is possible and now easier than before.
Ready to Use
Not only do we show you how to do it, we'll give you the worksheet, document and presentation files explained in the book. Open them up in Office for Windows and start right away.
Real-Time Excel includes working example documents to use right away. Only US$6.95 for Office Watch subscribers compared with the retail price of $11.95 – a $5.00 saving – click here. Buying Office-Watch.com books helps keep this newsletter and web site going and independent.