Excel has some useful options for printing less than an entire workbook. Printing a selection, active sheets or a table.
As Office-Watch.com has discovered before, there's a lot more available in Office than a quick look suggests.  See
Print options are at File | Print then choose the menu that starts with Print Active Sheets.
Print selection
Select a group of cells in a worksheet before going to File | Print | Print Selection.  It will print only those cells.
Non-continuous ranges of cells can be selected and printed (using Ctrl while selecting). However each part of the selection appears on a separate page.
This pair of selections:
Prints out with the first part of the selection on a single page.  The rest of the selection is atop page 2.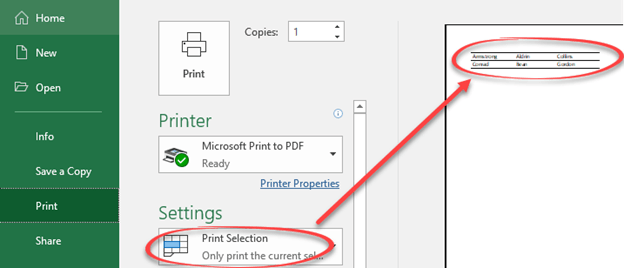 We could not find any way to directly print multiple selections on the same page.
The workarounds are to copy the selections to a blank worksheet and print from there.  Or Paste | Other Paste Options | As Picture will retain the formatting then print the image.
Print selected table
A really useful option to print only the 'selected' table.  We've switched to Landscape orientation so the table fits across a single page.
The table does not have to be fully selected to use Print selected table.  All it needs is the current selection to include some of a table or even just have the active cell in the table.
Print Active Sheets
The default is 'Print Active Sheets'.  Normally that means the currently selected/visible worksheet but that's not the whole story.
What are 'active' sheets?  They are the currently selected worksheets or tabs.
To select multiple worksheets/tabs, hold down the Ctrl key then click on the tabs you want to print.
Print Entire Workbook
Print everything, one with the lot, the whole enchilada ….
This will print all tabs in the current workbook.