Animated GIF support is coming (finally!) to Microsoft Word, Excel and PowerPoint.
We discovered the new feature in a new Insiders build, Microsoft hasn't announced anything. Here's an animated GIF playing in Word 365.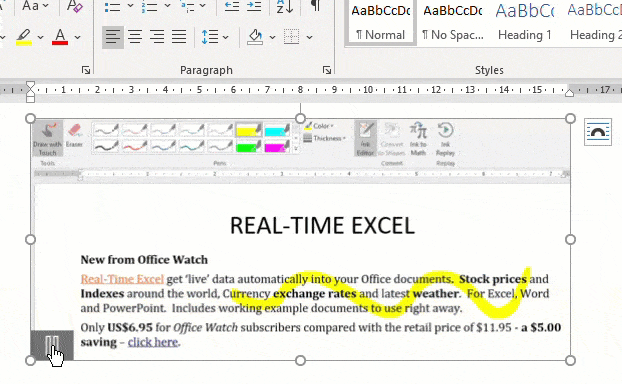 Paste or Insert an animated GIF now has play/pause buttons included (bottom left corner). The animation starts playing automatically when inserted.
At the moment, Office can store animated GIF's but only display the first frame.
When this feature goes public, it'll be very welcome to PowerPoint users.  Instead of inserting videos, which make large file sizes, they can be replaced with short and smaller animated GIF's.
PowerPoint 365 can already save slides as animated GIF's see PowerPoint makes animated GIFs of your slides
PDF support for animated GIF's
Sadly, Office documents saved as PDF lose their animated GIF's, just the first or opening frame of the GIF shows up.
That's because PDF specification doesn't support animated GIF.
Animated GIF support in Microsoft 365 hasn't been officially announced but it's in Insiders for Windows version 2007 build 13012.20000 .  Not in any Mac Insiders release, yet.  Here's hoping it comes to public releases (Windows and Mac) soon.
PowerPoint makes animated GIFs of your slides
Animated GIFs in Outlook messages, but not all Outlooks