NewEgg is offering a 15-month new or renewal of Microsoft 365 Family for just $75 saving about $45.  There's a special discount or promo code that we'll tell you below.
UPDATE
The price has changed to $99 which is still a good deal on a 15-month Microsoft 365 Family. $99 is the official price for a 12-month plan so the NewEgg deal is now offering 3 extra months for free!
It's a pretty good deal, especially considering that major online retailers aren't discounting Microsoft 365 as they used to. Many online retailers try to trap customers into full price automatic renewals but this appears to be a 'straight up' Microsoft 365 purchase.
The Microsoft 365 Family subscription can be used to extend an existing plan for up to five years. How a savvy Office Watch reader really saved with Office 365
UK customers: there's a similar offer available.
The offer is for:
Microsoft 365 Family (6 users) 15 month subscription
Instead of the usual 12 month plan ($99 plus tax), this is longer and works out to about $123+ at standard retail/renewal rates.
Curiously, NewEgg undersells the offer by saying the 15 month plan retails for $99 … that's the 12 month price.
Norton 360 Standard – 15 month plan with auto-renewal
Regular Office Watch readers know what we think of these add-on products. They are largely unnecessary for Windows 10 users who have effective anti-virus and firewall protections in-built. Packages like this are often included as loss leaders hoping that people will install and allow the 'auto renewal to charge them.
The offer is a good one, without the antivirus/security package. Buy the offer and, if you wish, ignore the extras.
We figure you'll save just over $20 on the regular price of Microsoft 365 Family, that's without any value in the Norton 360 package.
Make sure there's no trap to sign on for auto-renewals of the Norton product.
Get the deal
Go to https://www.newegg.com/Product/ComboDealDetails?ItemList=Combo.3954741
Add the product to the cart, as usual.
In the Shopping Cart, look for the Apply Promo Code section on right, click the + symbol.
Enter the promo code M365NLSAV3
Here's a completed shopping cart with the promo code applied. (we like to check these offers ourselves)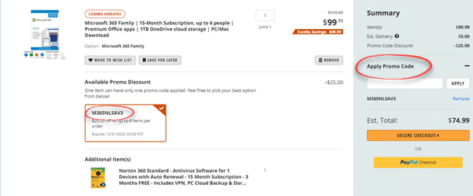 State and perhaps local taxes may apply.
Renewal or new customers
If you have an existing Microsoft 365 Family (formerly Home) plan, you can extend your subscription by 15 months. That works no matter how long until your current expiry.
New Microsoft 356 customers will create a subscription.
Deadline and Fine print
The offer is valid until the end of 2020, specificially 31 Dec 2020 at 23:59 US Pacific Time.
The fine print says "Up to four items per order" However the system limits the deal to one.
6 steps to saving on Microsoft 365 renewals or first purchase
Microsoft 365 money saving roundup
Office 365 money saving traps – if you're not careful