A few days ago we told you about a very good deal at Argos in the UK, half-price Office 365 Home.  One couple has taken advantage of our tip, and other suggestions from Office-Watch, to get two years of Office 365 for the price of one.
One of our readers saw our Office 365 Home deal  tip and bought two ₤40 Argos gift cards for her husband's birthday.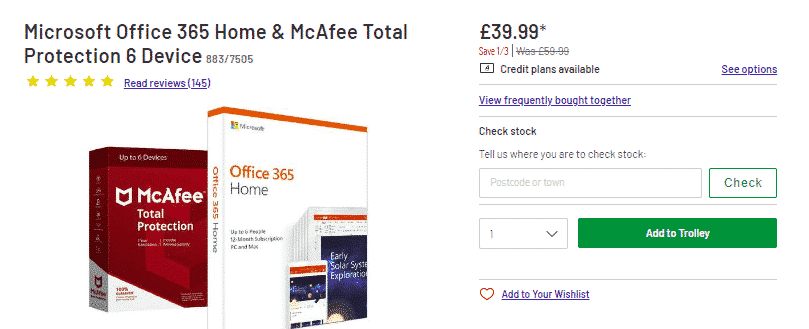 The birthday boy, Brian C, already has Office 365 Home expiring in seven months.  He bought two of the ₤39.99 Office 365 Home deals then applied both product keys to his account.
Now his Office 365 plan lasts until May 2022!!!
As Brian said:
"What a find! Recommend this to all your readers. Half price software that works – fill yer boots"
Office 365 money saving
Brian and his generous wife took advantage of some ongoing Office-Watch tips for saving on Office 365.
If you find a very good Office 365 deal take it.

Make sure it's the same as your current plan (i.e. Personal or Home)
Ignore and throw away any deal 'extras' like security software subscriptions.
Only use deals from legitimate retailers.

Office 365 plans can extend for up to five years.
You can extend/renew Office 365 at any time.

You don't have to wait until near expiry.

Keep up with the Office Watch newsletters for great deals and tips on Microsoft Office.
6 steps to saving on Office 365 renewals or first purchase
Warning: Office 365 plus Amazon gift card price ripoff ?
Protect yourself buying Microsoft Office from Amazon or Ebay
Maybe you can't even trust Amazon when buying Microsoft Office
Office 365 money saving traps – if you're not careful