Here's how to force the 'Draw with Touch' button to appear in Word, Excel and PowerPoint when it doesn't show up automatically.
'Draw with Touch' is an Office option to let you draw with a finger or stylus on a touchscreen. It should automatically appear on the right of the Draw tab with a touch-enabled screen but sometimes doesn't.
Never mind, although 'Draw with Touch' doesn't always appear when it should, you can force the button to show by customizing the Draw Ribbon.
Just go to File | Options | Customize Ribbon to turn it on. From the 'All Commands' list find 'Draw with Touch' then Add to the Draw tab (or anywhere you'd like it to appear).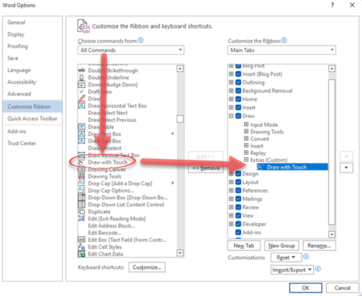 Once you've selected the Draw with Touch button, begin drawing on your screen.
Or even surface pens should turn on drawing automatically.
Play around with the different Drawing Tools styles, and colors. It has a variety of uses in Word and other apps.
Get started with Word's Draw features watching this video
Action Pen is editing by drawing in Microsoft Word
Drawing in all sorts of places Microsoft Office apps