Word has many calendars in the File | New templates supplied by Microsoft.  Search for "calendar" in the File | New pane. Unlike past years, there's no need to search by year "2023 calendar"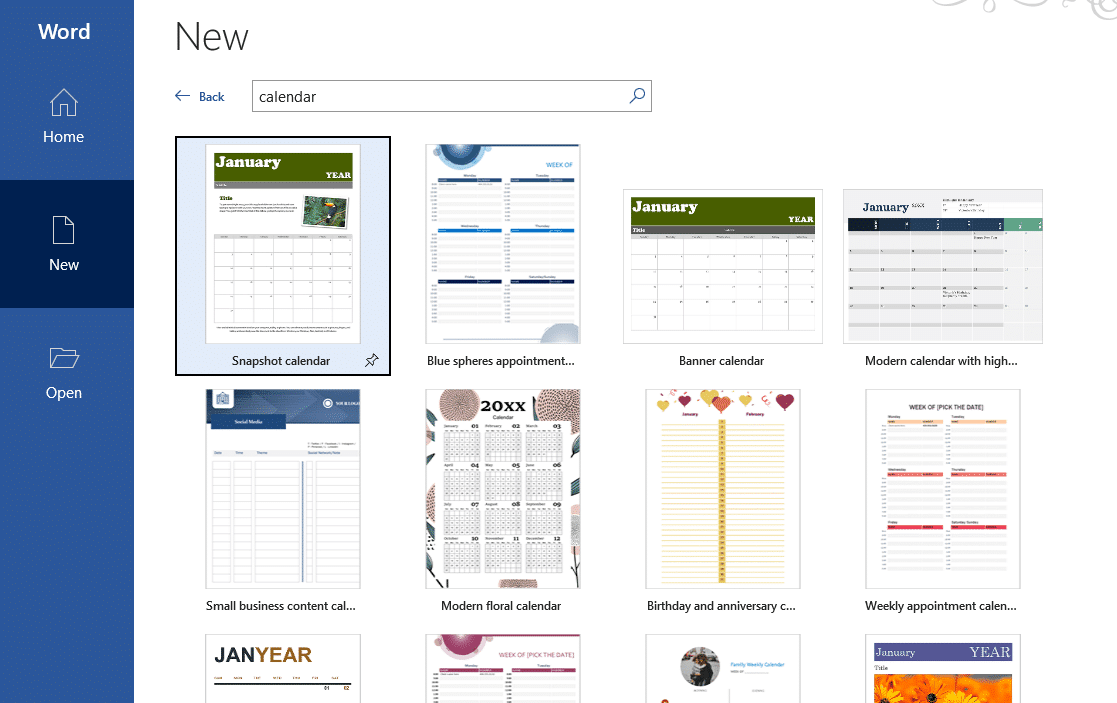 There are two basic calendar designs:
Yearly calendar on a single page
Monthly calendar (one page per month).
Some have macros to change which day you consider the start of the week:
Many more Word calendars
There is an 'any year' Word calendar template which makes a calendar document for any year you specify.
A web search will find many other calendar templates.
The Microsoft direct ones are probably all you need. They have the basic look (year to a page or month to a page) and can be quickly changed in design and text to suit you.
Changing the calendar
Each calendar template is just a Word document that you can, and probably should, change to suit yourself.
The main text elements have styles. Right-click to choose Modify Style the change the font, size, color etc.
Text
Add text in any cell of the month to a page calendar or change the date number.
Calendar gridlines
The calendar grid is a table, no surprise there. Change the calendar gridlines from Table | Design | Borders, click on the icon at bottom right to open the full Borders and Shading dialog.
Change the pictures
The graphics in the yearly calendar can be selected, deleted or changed.
It's a bit cleverer in the monthly calendar. The side graphics are anchored in the footer even though they show up on the sides.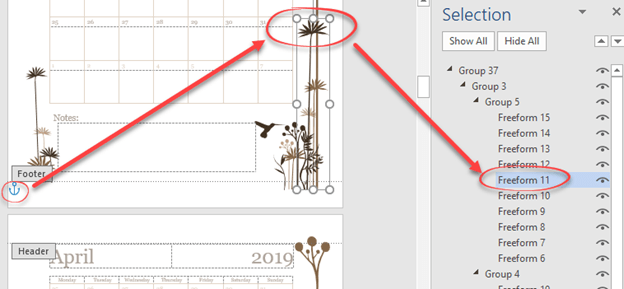 Click in the Footer to reveal the graphics and the anchor point inside the footer. Opening the Selection Pane (Layout | Arrange | Selection Pane) makes it easier to select each graphic.
Notes
There's a Notes section at the bottom of each page in some month to a page calendar. The title 'Notes' uses Heading 1 style so each one appears in the Navigation Pane.
Make your own Yearly calendars and more in Word
2023 Calendars in your PowerPoint slides
A better Excel Calendar Creator for Office Watch readers
Office Watch has extensive help to make Calendars in Word, Excel, PowerPoint and Outlook.