Microsoft Office 365 and Office 2021 let you save images to SVG format from either images/graphics, charts or whole slides from PowerPoint.
Originally 'Save As SVG' was only in PowerPoint 365 Windows but it's quietly spread to Word 365, Excel 365 and Outlook 365 as well as the Office 2021 apps.
SVG is a scalable graphics format which ensures the image looks the same no matter how large or small it is. It's a XML based description of how to draw a shape. Icons in Office 365 are SVG graphics.
See Edit options for SVG Icons in Office 365/2019
Make simple changes to SVG graphics
Finding more SVG or Icons for Office
Save images to SVG
In Microsoft 365 and Office 2021 apps (Word, Excel, PowerPoint and Outlook) all you have to do is right-click on the picture or graphic, choose 'Save as Picture …' then select the format you want including "Scalable Vector Graphics Format (*.svg)".
PowerPoint slides to SVG
To save one or all slides to SVG, under File | Save As | Save as Type, choose 'Scalable Vector Graphics format (*.svg) from the long list.
Then choose to save all slides as SVG files or just the current slide (the same choices available for other export options).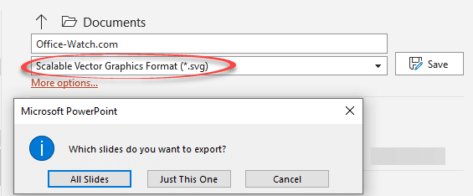 Save either a selected image/graphic/icon/shape/chart in a slide by right-clicking then Save As Type, 'Scalable Vector Graphics format (*.svg).
Why convert to SVG?
It's not the most important addition to PowerPoint but 'Save As to SVG' is a handy little addition that's worth keeping in mind.
Saving a slide to SVG would be very useful if printing or displaying a slide in a very large format. SVG will scale up to really large sizes like posters or even billboards.
Office 365 has some nice SVG editing options in addition to the ones we've talked about before.
But those options convert the SVG into an Office shape. Save As to SVG lets you tweak an SVG in Office then get a fresh SVG to use elsewhere.
Raster or Bitmap conversion
If the image or slide contains raster or bitmap details (like a JPG image) it becomes a large SVG with the pixel details written into the file. That works but it's not a good use of SVG.
SVG conversion works best on graphics and text.
We tried the new SVG conversion on a simple slide with two Office Icons (SVG's themselves)
The result was acceptable SVG.  The background and text all became SVG descriptions – see the text words (in black) and font statement in this snippet.
Four SVG editing choices for Office 365/2019/2021
Sketchy or wriggly lines in Icons and SVG graphics
Better Icon, illustration or SVG editing trick in Office
Edit options for SVG Icons in Office 365/2019
Make simple changes to SVG graphics
Finding more SVG or Icons for Office