The Shrink to Fit or Shrink One Page option hiding in Microsoft Word might solve a common problem. Making a document that's using part of an extra page (an 'orphan'), fit into a single page or one less page.
Shrink One Page or Shrink to Fit was added to Word a long time ago, at least a decade.  At the time, it was the pride of Office product demos but now languishes in the All Commands list.  You can add it to a ribbon or Quick Access Toolbar.

What does Shrink One Page do?
Shrink One Page does what the name suggests, it will make a document slightly smaller so an 'orphan' part at the top of a page will fit at the bottom of the previous page.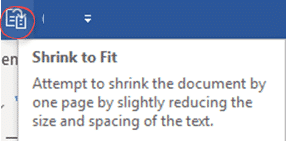 Here's a simple two-page document with only two lines at the top of the second page.
Click on Shrink to Fit and, presto!, you have a one page document.
No really, what does Shrink One Page do?
There's no magic going on. Shrink One Page reduces the font size and sometimes line spacing a little to make the excess text fit. In the above example, 12pt text changes to 11pt.
Why isn't Shrink One Page more commonly used?
Shrink One Page is a fairly blunt instrument that can't handle long documents or more complex formatting (pictures, tables, charts) very well.  It will make unnecessarily big changes to the entire document rather than a few tweaks near the end.
Here's an example of Shrink One Page's overzealous document changes; a seven page document with a blank page at the end.
Shrink One Page will remove that blank page but only by reducing the size of the entire document's text! Shrink One Page creates a six & one-third page document by shrinking all the text by 0.05pt,
There are many easier and more elegant ways to get rid of that final blank page without messing up the entire document. See the Office-Watch.com articles Delete an Empty or Blank page in Microsoft Word and Preventing Table overrun to blank page in Word.
Shrink One Page aka Shrink to Fit is a great tool to impress in Word product demonstrations with a carefully created example document. In the real world, there are better ways to squeeze a document down a little.
In some situations, Shrink One Page changes aren't allowed. Essays, bid submissions and legal documents often have specific font, paragraph and page specifications that Shrink One Page will violate.
Also at Office-Watch.com :