A newly promoted UK politician has his own special style guide for staff, here's some Word features that can help ensure your documents are approved by the boss.
The Right Honourable Jacob William Rees-Mogg  (to give his new full title) proudly affects an old-fashioned demeanor and has been described as "on secondment from the 18th Century".  His personal writing style rules were distributed to his new parliamentary staff who promptly leaked it to the British press <g>.
It gives us a chance to look at some of the style and formatting options in Word and some of the ways Word could be improved for staff trying to comply with special in-house writing rules.
First we'll look at some of the Rees-Mogg rules that Word can check for like Ms, double spaces after sentences and the Oxford/Harvard Comma.
We'll also see how Word could be better, especially helping enforce and explain style and spelling choices.
Banned words and phrases
According to newspaper reports, among the forbidden words and phrases in the Rees-Mogg office are:
I am pleased to learn
I note/understand your concerns
invest (in schools etc)
no longer fit for purpose
ongoing
hopefully
very
due to
unacceptable
equal
Too many 'I's
yourself
lot
got
speculate
meet with
ascertain
disappointment
All of the single words could be added to Word's Exclusion Dictionary
See Removing words from the Word dictionary  and Exclusion dictionary – follow-up
What's missing from Office is a way to explain excluded words or highlight questionable phrases. A new staffer might wonder why 'unacceptable' or 'speculate' got a red squiggle in Word.
There should be a way to prompt users towards the house style. Word has a binary Good or Bad approach, with no middle-ground or way to explain why something isn't OK.
Word dictionary has a long-standing limitation to single words only with no way to add or exclude phrases or even two-word place names.
Word's Regular Expressions with Find does not support a logical OR ( the | in Regex). If it did, you could run a single check for multiple 'bad' words e.g.  speculate|ascertain|yourself  .
Ms without a fullstop/period
Word's default is for a fullstop/period after the honorific 'Ms'.  Without a fullstop, Word will give a spelling error warning.
The alternative (sans period) can go into Word's dictionary by right-clicking then Spelling | Add to Dictionary.
Removing the existing word from the dictionary is also possible so the terms like 'Ms.' get a red squiggle.
Double space after fullstop
Word checks for either single or double space after the period/fullstop.
It's deep in Word at File | Options | Proofing | Writing Styles | Settings then scroll down to 'Space Between Sentences'.
To fix existing documents use either:
Change sentence space after fullstop/period in Word
or the slightly more complicated 'single space' to 'double space'.
Change single space after sentence to double space in Word
No comma after 'and'
This 'rule' has two interpretations.  Some think the rule, as typed, is a mistake and is intended to be the 'Oxford Comma' (see below).
If the rule is truly " no comma after 'and' " (which is generally accepted grammar) then Word can detect it.  Most likely the Grammar check with detect it and put a blue squiggly under it.
If you wish add   'and,' to the Exclusion list.  It will show up with a red squiggly line.
Oxford Comma
The 'Oxford Comma'is also known as a Harvard Comma or serial comma. It's the 'extra' comma before the last item in a list.
Oxford Comma – We will fight them on beaches, fields, hills, and streets.
No extra comma – We will fight them on beaches, fields, hills and streets.
This is where modern Word lets customers down because Microsoft removed an essential choice from the grammar/style checker.
Word 2013 and before
These versions would let you know if the Oxford Comma was there or not – whichever you preferred.  There were three options
Don't check
Always: Oxford/Serial comma preferred. Warn if there is NOT an extra comma
Never: Oxford/Serial comma NOT required. Warn if there IS an extra comma.
Never is the choice for people working for the Oxford Comma haters of this world.
Word 2016 onwards is worse.
Now you can only check if you want the Oxford Comma but there's no warning for Rees-Mogg staff not to include it. All we get now is in Word at File | Options | Proofing | Writing Styles | Settings then scroll down to 'Oxford Comma'.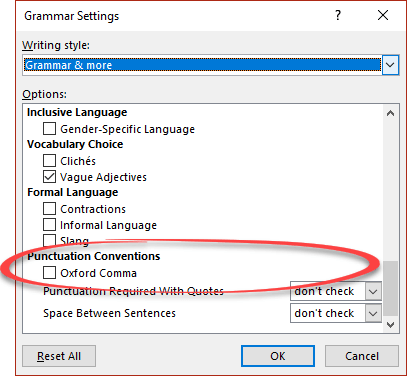 Oxford Comma in Word 2016 isn't as good
Oxford Comma differences between Word 2016 and earlier versions
Use Imperial measurements
Not a lot Word can do about the 'godless' kilometer or liter <g>. Officially the UK is a metric country but with some exceptions.
Metric terms (kilometer, liter etc.) can go into the Exclusion dictionary so they appear with a red squiggle. Again, it would be nice if the exclusion dictionary came with an explanation.
Abbreviations like km, l, or m are a lot harder to check for. There's no in-built way to do it.  Some VBA or Regex search could check for digits followed by a metric abbreviation e.g  12 km  or 15 l and variations like 12km 15 l.  etc.
Esquire or Esq.
Word can't check for something missing from a name. It's not smart enough (yet) to detect names from other text.
Rees-Mogg's rule about 'Esq.' in addresses could check with a search limited to the style used for addresses eg. Address or Envelope Address.