Microsoft has added new features and interface to Dictation in Word for Mac. Voice commands, auto punctuation and even a [email protected]$#$ profanity filter.
It's almost the same as Dictation in Word 365 for Windows. A different shortcut key 'tis all.
Clicking the Dictation button on the Home tab or pressing Option + F1 now opens a dialog at bottom center of the document. It will start 'Listening' right away.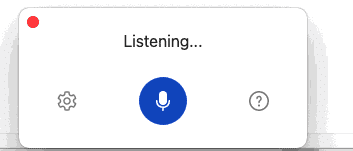 Tap on the microphone icon to pause dictation.
Use the Settings icon to see some more options.
Auto punctuation
Word will add comma, fullstop etc as it thinks best. It saves you having to speak the punctuation and is handy for more free-flowing speech.
Auto punctuation defaults off.
Voice Commands
There are punctuation, symbol, math, currency, editing, formatting and list commands available in modern Office Dictation.
See the full searchable list of Voice Commands or the dedicated chapter in our ebook Dictation and Read Aloud in Office.
Profanity filter
Any naughty words spoken are replaced by asterix, a 'star' for each letter of the profane word.
Microsoft decides what's a profanity and what's OK.  We tried stubbing a toe while dictating to discover that all the usual suspects get bleeped out – the F, C (x 2) and S words for starters.  As you can see above, a few minor words are deemed OK.
Religious names, which could be considered profane or blasphemous in some contexts, are allowed.
What is Microsoft's thinking behind the profanity filter? They now explain:
" This is to ensure that any errors in speech recognition don't incorrectly attribute potentially sensitive phrases to a speaker."
Perhaps this makes more sense for 'Speech to text' on live or recorded transcription.
You can have fun testing the profanity filter to see what's considered 'naughty' in various languages. Please let us know what you discover.
Spoken language
There's a list of fully supported and 'preview' languages.
Fully supported languages
Chinese (China)
English (Canada, United Kingdom, and the United States)
French (France)
German (Germany)
Italian (Italy)
Spanish (Mexico and Spain)
Preview languages
Preview languages are 'works in progress'. They might have lower accuracy and punctuation with improvements happening over time.
Chinese (Taiwan)
Danish
Dutch (Netherlands)
English (Australia and India)
Finnish
French (Canada)
Hindi
Japanese
Korean
Norwegian (Bokmål)
Polish
Portuguese (Brazil and Portugal)
Russian
Swedish (Sweden)
Thai
Who gets it?
Dictation first appeared in the Word 365 for Mac v16.45
Dictation and Read Aloud in Office
Word Online gets Dictation – type with your voice
Dictate voice commands – the full, searchable list
Dictate into documents with Word 365 for Mac
Office Watch most popular articles of 2020