Well, that's been an 'interesting' year for all of us <sigh> . Here's some of the articles that have been popular with our worldwide audience over 2020.
Getting more from online video calls
With the global lockdown, Office Watch switched roles for a while and added lots of advice for online video calls. We've been working remotely for many, many years which we p0ut to good use in Remote Life & Work our guide to living and working from home.
Be polite and professional in Zoom and Teams calls is all about sounding clear on calls. A fancy microphone isn't needed, sometimes all you need is headphones or earbuds.
Looking good in a call doesn't take much.  A decent shirt or blouse plus positioning your camera or device.  Avoid the dreaded 'up the nose' look.  All it takes is a pile of books or DVD boxsets.  Look better in an online call – simple, easy and low-tech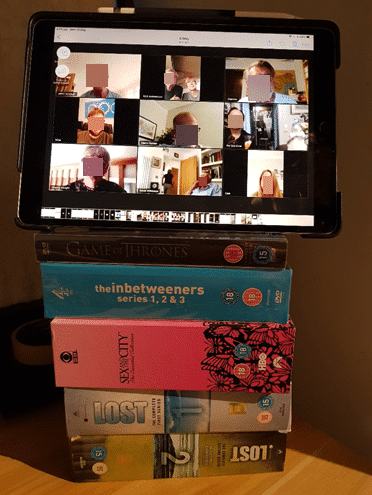 Lighting, positioning and other tips for your online calls
You don't need a tripod or camera stand – ask Prince Charles
A simple, cheap and fast alternative to a webcam is Turning your smartphone into a webcam – iPhone, iPad or Android
Try Grandma's Trivia Quiz by email and online
Changing your display name in Zoom, Meet, Skype and Teams calls
Zoom problems you can easily fix
Two new video meeting options in Teams
Background images are now available in Zoom and Teams. Microsoft moved quickly to improve Teams video calling when they started losing market share to Zoom.
Clever tricks with Zoom talks about virtual backgrounds in Zoom.
Add your own background image to a Teams call
Virtual backgrounds add a bit of fun and interest to your call. It also stops people judging your house, your bookshelves, décor and tidiness.
Your own photos are often the best backgrounds but there are plenty online too.
BBC TV backgrounds old and new for PowerPoint and backgrounds
London virtual backgrounds for all
Use the Force with your PowerPoint & Zoom backgrounds
PowerPoint presentations in a window not full screen went from being a niche feature to vital need with online group calls.
Office Watch for Apple
2020 saw the launch of a new Office Watch newsletter devoted to Office apps on Mac computers, iPad and iPhone.
Join Office Watch for Apple today
Among the many Apple related articles, there was a lot of interest in compatibility with the new MacOS All you need to know about Microsoft Office and Big Sur MacOS
And how to stop Office updating whenever it liked Stop Office for Mac automatic updating
Tracking COVID in Excel
Excel's data links have been very useful this year for tracking the spread of COVID-19 and comparing how countries are faring.
We were frustrated by the media focus on raw numbers of cases or deaths instead of adjusting for population.  We made a download to track COVID-19 stats in your own Excel spreadsheet  which is still available.  It grabs data from a reliable web source then you can choose the countries to track and see how they are coping in both whole numbers and per capita.  Just Refresh All data links to see the latest stats.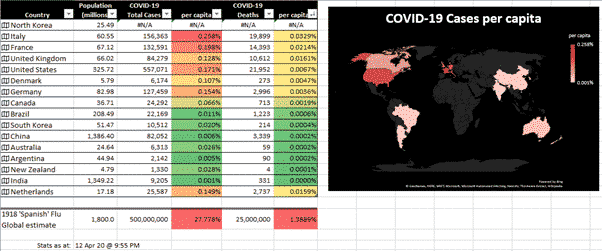 2021 Calendars
Get ready for a, hopefully, better 2021 with printable calendars made in Word, Excel or PowerPoint
2021 calendars in Word and the tricks to make them special
2020/2021 Academic calendar in Microsoft Word
2021 Calendars in your PowerPoint slides
Make your own Yearly calendars and more in Word
Cool Excel Year Planner now available for download
Symbols and characters
Throughout the year, we've been adding articles about typing symbols and characters that aren't on the regular keyboard.
Easily the most sought-after symbol is Degree ° in Word, Excel and PowerPoint
There's also combined Degree Celsius ℃ and Degree Fahrenheit ℉
Currency symbols are also much in demand:
Saving on Microsoft 365
Always popular are our tips on getting legal Microsoft 365 for the lowest price.
6 steps to saving on Microsoft 365 renewals or first purchase
Office 365 'Lifetime' plans are a lie
Other popular articles
We pointed out the limitations of Microsoft Forms and its poor integration with Excel The best ways to get Microsoft Forms results into Excel
Surprisingly popular was our in-depth explanation of Simple image overlays in Word which not only shows how to do it but why Word works that way.
Excel Sheet View is a few feature which solves a problem when collaborating on a workbook.
Excel has many options for refreshing data and recalculating sheets.
Six Word tricks to reduce space between lines
Two ways to add Gradient or Rainbow text or background effects in Word
Office Read Aloud and Dictation features are now much more reliable. We devoted our end of year book to Dictation and Read Aloud in Office