Here's how to find out what type of Microsoft Office 365 licence you have with details hidden from the usual About dialog box.
We recently showed it's important for for perpetual non-subscription versions of Office like Office 2021 or Office 2019 to know if the purchase is Retail/Volume or OEM. That's a vital detail for perpetual licence (non subscription) Office.
After that article, some Office Watchers asked about the details on Microsoft 365 for Windows. Given the slightest encouragement … 🤣
The same trick works with Microsoft 365 for Windows and shows some details not visible elsewhere, in particular the offline grace period. Some of the other details aren't important or downright strange.
Scroll down for the steps to find your Office license details.
Your mileage will vary
Between our own tests and reports from Office Watchers (our readers) it's clear that the results from " cscript ospp.vbs /dstatus " can vary a lot and not always for any obvious reason. We'll show some of the variations we've seen for fully working Office 365 for Windows.
DON'T WORRY if your screen shows something different from what's below. If your Office 365 software is fully working with access to 1TB OneDrive etc. then you're good to go.
Microsoft Office 365 license details
Here's a typical result
Licence Name: look for the characters '365' . Yes, it still says 'Office 16' and 'HomePrem' even though the name changed from 'Home Premium' to 'Family'. 'R' for Retail.
License Description: might say 'TIMEBASED_SUB channel' or 'RETAIL (Grace) channel'.
Beta Expiration: Ignore. This appears for regular public releases of Office (non-beta/Insiders) but does NOT mean you've switched to Insiders. The '1601' date is a placeholder, your computer hasn't moved back in time to the Elizabethan era!
License Status: should show 'LICENSED' but might say 'NOTIFICATIONS', see below.
Error Code: can be ignored.
Error Description: "The Software Licensing Service reported that the application is running within the timebased validity period." is a long-winded way of saying Office is fully licensed <g>.
Remaining Grace: how long the software will work without needed a check of license status. See Microsoft 365 licence has a 'grace' or offline period
Alternative License details
Other fully working Microsoft 365 installs show quite misleading results.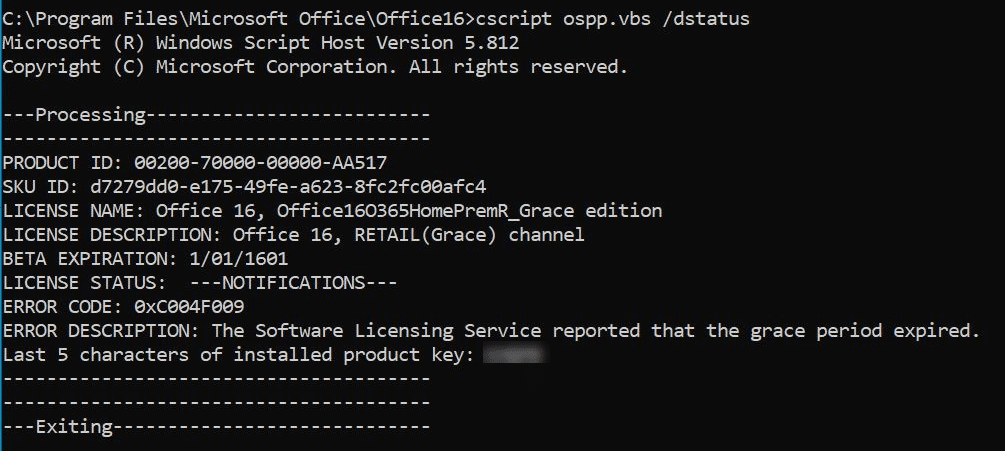 This example is from another computer using the same shared Home/Family license as the first example above.
The error message isn't correct: "The Software Licensing Service reported that the grace period expired." because Office is working on that computer. The term 'Grace' and status 'Notifications' are related to the false 'grace period expired' message.
Computers showing this error are regularly connected to the Internet (two are desktop machines) so there's no reason why the licence status isn't updated.
If Microsoft Office 365 is working on your computer, you can ignore this message. As long as Microsoft's licencing servers are happy, you're good to go.
But it's a nuisance if you want to work offline for an extended time and would like to check the 'grace period' days remaining.
Microsoft 365 licence has a 'grace' or offline period
Restart or renew Microsoft 365 licence before going offline
No License details
We've seen other machines that show:
<No installed product keys detected>
even though Microsoft 365 is happily running as fully licensed. Go figure.
More than one Office license
Multiple Office licenses might appear like this: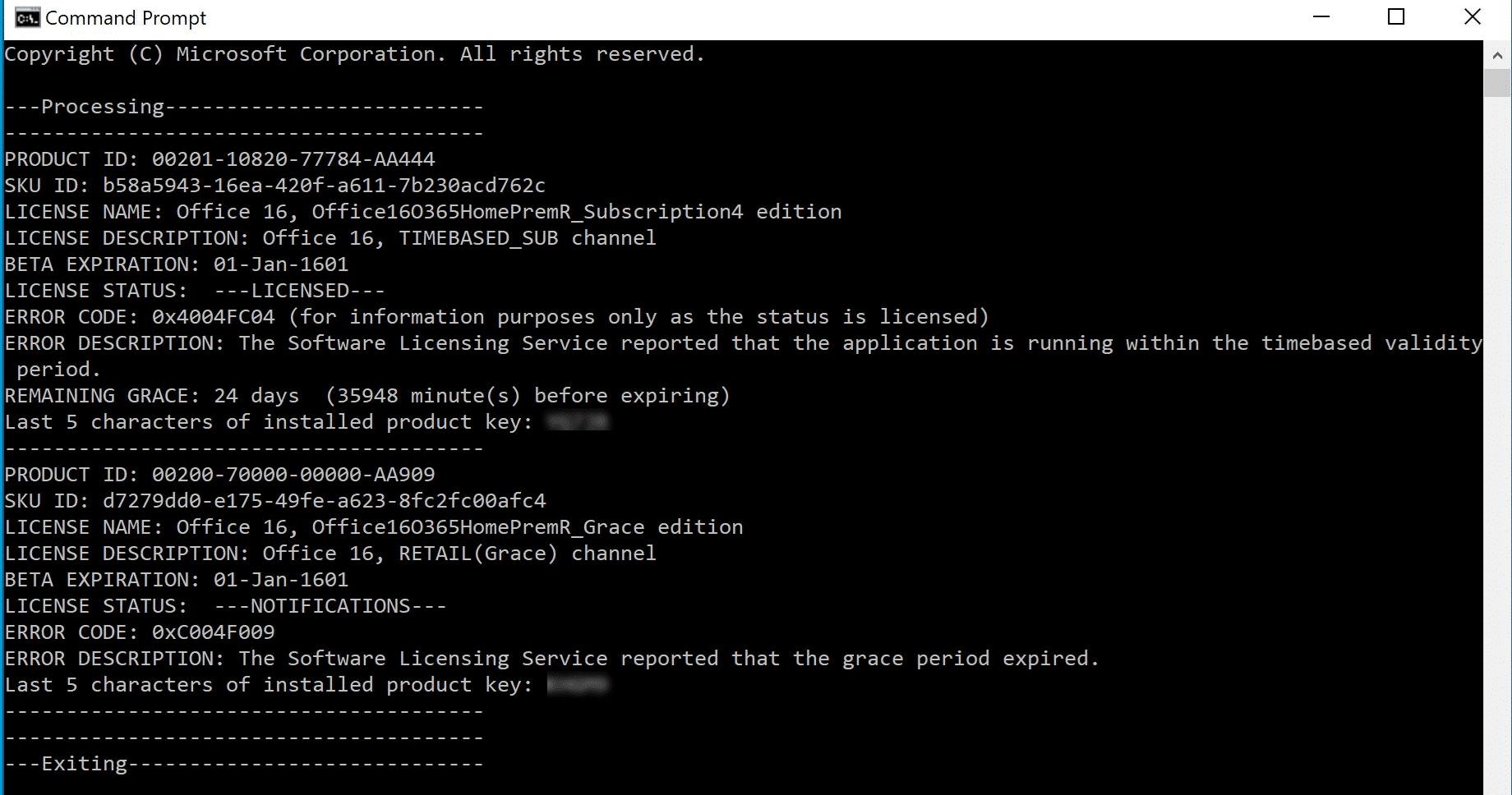 This happens if more than one Office license has been installed on the one computer over time. The unnecessary licenses can be deleted but that's rarely necessary.
Find Office licence details
Open a Command Prompt with Admin access (aka DOS box) in Windows. Press the Windows key then type/search for 'cmd' – choose 'Command Prompt (Admin).
Change to the correct Office folder, depending on which 'bitness' software you have.
64-bit (x64) Office
cd c:\Program Files\Microsoft Office\Office16\
32-bit (x86) Office
cd c:\Program Files (x86)\Microsoft Office\Office16\
If you're not sure, try both. If the path isn't available, there's no harm done, just a warning "The system cannot find the path specified" so use the other path listed above.
In this case the 64-bit path isn't valid, so we tried the 32-bit folder instead.
Now enter this command to see Microsoft Office licence details..
cscript ospp.vbs /dstatus
Look at two lines for the important details.
LICENSE NAME:
LICENSE DESCRIPTION:
For perpetual license Office 2019 or Office 2021 look for the words:
Retail – for a retail purchase. Transferable to another computer.
Volume or VL – a volume license. Also transferable.
OEM – bought with a new computer. Not transferable to another computer.
For Microsoft 365:
Subscription – for Microsoft 365 annual payment plans.
Which Product Key?
Another useful line is:
Last five characters of installed product key:
That helps match up your product key with the installed computer. Handy if you have multiple product keys in your collection. See Fixing extra licence problems in Microsoft Office
Offline Grace Period
There can be other useful details in that listing like the Offline Grace Period for Microsoft 365 subscriptions.
Office for Mac
Finding these details is a lot easier on Office for Mac. Go to the app menu (top left) then the About … menu item.
That displays the type of Office and who it's licenced to.
There's no OEM option with Office for Mac. Only Retail and Volume licenses.
See the license rules for Office 2019 and Office 2021
Solving Unlicensed Product errors in Microsoft Office
Offline Grace Period for Microsoft 365 subscriptions
Fixing extra licence problems in Microsoft Office