Excel users owe thanks to Sumit Gulwani . He's the guy who turned the Flash Fill feature from a vague dream into something that makes life easier for Excel and other Microsoft customers.
Flash Fill is a way to join, split or reformat text in Excel without coding. You type in examples and Flash Fill copies that format into other cells.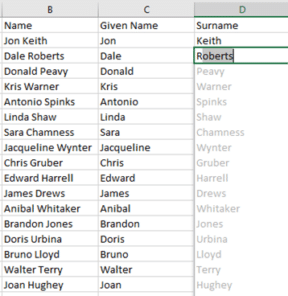 Flash Fill was born in 2011 with an academic paper with the title "Automating String Processing in Spreadsheets using Input-Output Examples". The summary doesn't exactly leap out as something exciting …
" We describe the design of a string programming/expression language that supports restricted forms of regular expressions, conditionals and loops. The language is expressive enough to represent a wide variety of string manipulation tasks that end-users struggle with. We describe an algorithm based on several novel concepts for synthesizing a desired program in this language from input-output examples. The synthesis algorithm is very efficient taking fraction of a second for various benchmark examples. The synthesis algorithm is interactive and has several desirable features: it can rank multiple solutions and has fast convergence, it can detect noise in the user input, and it supports an active interaction model wherein the user is prompted to provide outputs on inputs that may have multiple computational interpretations. "

Automating String Processing in Spreadsheets using Input-Output Examples
But to programmers, Sumit's work was a big deal.  The paper won a "Most Influential POPL Paper Award". It lead to PROSE or Microsoft Program Synthesis using Examples.
Flash Fill isn't the only place PROSE is available. Azure Data Factory, Data Studio and Monitor. Also PowerShell and PowerBI.
Even in Excel, 'learning by example' is in two places. Flash Fill and Columns from Example in PowerQuery.
The story of Flash Fill and (how it shaped) me
See Sumit Gulwani speak for himself in this video.
Flash Fill Magic in Excel
What happened to Flash Fill in Excel?
Auto Fill hidden tricks in Excel