Outlook 365 for Mac has a more complete connection to Gmail accounts which includes calendar and contacts. But it's not a simple link and there are so many 'gotchas' we wonder if it's worth the trouble.
Microsoft is hyping an Outlook for Mac feature that synchronizes not just mail, but also calendar and contacts. But it's done in an indirect way which routes your data via Microsoft's servers and adds delays as well as complications to the usual, direct Outlook connection. Your Google password must be disclosed and saved by Microsoft to make this work.
Normally Outlook (Windows or Mac) connects directly to the mailbox and gets or synchronizes with the original mail server.  That's how Outlook for Windows connects to Gmail (using IMAP synchronization) for email only.
Outlook 365 & 2016 has a different and indirect connection which syncs mail, calendar and contacts. To do that, Microsoft uses their cloud services to grab data from your Google account. From Microsoft Cloud mail, appointments and contacts are synced to Outlook for Mac. It means your Google account name and password are saved and used by Microsoft.
All this applies to Outlook 365 or Outlook 2016 for Mac users who are on build 16.15.18070902 or higher (which should be almost everyone in 2021) and are activated using a Microsoft 365 subscription.
Add a Gmail account
Go to Accounts in Outlook 365 for Mac, enter your Gmail address then password.  After that there's a short notice of what Microsoft is going to do, accentuating the positive and mentioning none of the downsides.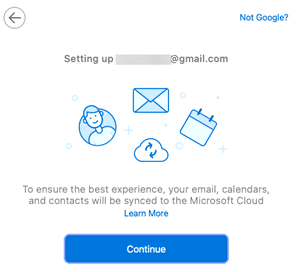 The Learn More link goes to a general page about the service. Way down at the bottom is the important details of Known issues syncing Google accounts to the Microsoft Cloud that we'll look at below.
Don't want this connection and prefer the direct, email only link?  See 'Gmail mailbox sync only' below.
If you click Continue, a browser window will open for a Google login and to give permission for Microsoft to access your Google stored data. As you can see, Microsoft asks for extensive access.
Once the setup is complete, your Google Gmail mail, contacts and calendar will appear in each of the navigation panes.
Use the checkboxes next to each calendar or contact list to make it visible or hidden in the Outlook main calendar view or contact list.
Disk Space on your Mac
Outlook for Mac is a major user of disk space with few options for reducing the local space used (unlike Outlook for Windows). Adding a Gmail account only makes that problem worse.
Outlook's connection to Gmail doesn't allow for folders to be 'unsubscribed' to stop them synchronizing to the Mac and filling up more precious disk space.
The only way to stop a folder being synced is to make it 'not visible' to IMAP in your Gmail settings. See Gmail folders visible in IMAP at the bottom of our article about Gmail settings. Unfortunately, that setting applies to all IMAP connections to your Gmail, not just Outlook for Mac.
Other Notable Gotchas
There are a lot of gotchas (aka Known Issues) with this Microsoft workaround, the full list from Microsoft is here.
Some are incompatibilities between Gmail and Microsoft mail systems (such as labels and categories) that Office Watch has explained elsewhere.
How Important and Star Gmail messages appear in Outlook
How Gmail Labels and Categories work with Outlook
Issues that stood out from Microsoft's long list are:
Categories are not supported.
Tasks and Notes are not supported.
Moving mail from another mailbox is not supported.
You can't send attachments larger than 10 MB, even though the Gmail limit is 25 MB.
… depending on the size of your mailbox, it may take up to a few days for older messages to become available in Outlook.
You cannot access attachments from an encrypted email. The attachment will show as .p7m.
If you create an event on your calendar in Outlook, its default visibility is "Public," regardless of your Google Calendar settings. To ensure the event is not publicly visible, right-click on the event in the Outlook calendar and select "Private," or open the event and select the lock icon in the ribbon.
All of your contacts from Google will download to Outlook as soon as you add your Google account, but subsequent changes made in the Google Contacts web app will not be downloaded to Outlook for 24 hours. You can select the contacts folder in the left pane or right-click on the contacts folder and select "Synchronize Now" to sync immediately. Changes you make to contacts in Outlook will be always be uploaded to Google immediately.
Only the following contacts fields are supported between Google and Outlook for Mac: Name (First, Middle, Last), Suffix, Title, Company, Department, Nickname, Emails, Phones, Notes.
The "Address" fields in Google Contacts is displayed in Outlook but can't be modified.
Between all the problems, delays and limitations, plus the disk space issue, we wonder if linking Gmail to Outlook for Mac is worth the trouble.
Connect Outlook with Google's Gmail
Outlook settings you need to 'fix' for Gmail accounts
How Gmail Labels and Categories work with Outlook
Even more Gmail settings in Outlook… select or Subscribe Folders
How Important and Star Gmail messages appear in Outlook