Here in the UK there's a very good deal on Office 365 Home, saving more than ₤10 on the street price or 50% off the full retail price. Use this offer to extend your Office 365 plan for a lot less than Microsoft will charge.
Office 365 Home is the 6 user annual plan and the most commonly sold consumer plan.
Microsoft sells it for ₤79.99 but you'd be crazy to pay that price when there's discounts available elsewhere.  ₤79.99  is the price, if you let Microsoft auto-renew.
Amazon UK sells Office 365 Home for around ₤55 (the price varies during the year).
Office 365 Home for ₤40
UPDATED: The price increased to ₤50 (₤49.99).  That's the lowest regular street price for Office 365 Home in the UK but that price doesn't happen often.  So it's still a good deal, just not a great one.  For comparison, Amazon UK is currently selling Office 365 Home for ₤52 though it was over ₤70 just a few days ago.
Argos was selling Office 365 Home for ₤40 (₤39.99) when combined with McAfee Total Protection, security software.  That's a very good price for Office 365 Home.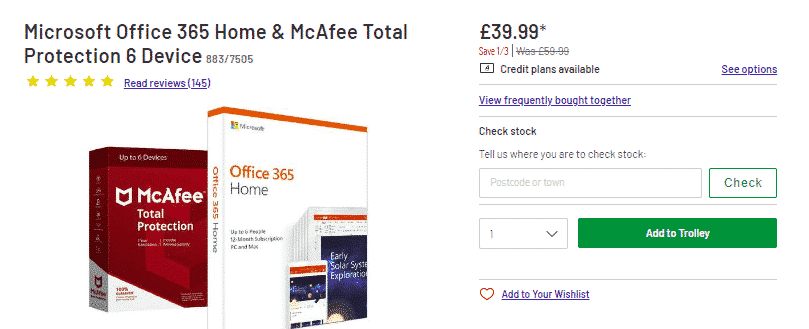 It's one of those strange marketing deals. Argos sells Office 365 Home for full retail price, but combined with another program the price halves.  Go figure.
Use Office 365, throw away the rest
Buy the combined bundle, extend or start your Office 365 Home plan for a low price and throw away the McAfee software.  You don't have to install or use both parts of the bundle.
Office Watch has long recommended against third-party security software.  Windows 8 and 10 have excellent in-built security software and Mac's are quite secure too.  Additional 'protection' costs you money and risks adding more complications to your computer.  Any 'offer' for security products is another 'subscription' hoping to get you paying each year for continued coverage.  That's why you often find good deals on products bundled with security software.
Extend your Office 365 subscription for less
As we've mentioned many times, you're better off renewing separately by buying the same Office 365 plan retail then 'topping up' or extending your existing subscription.  That can be done at any time, not just near renewal.  We know people who've found good deals to make their Office 365 expiry two or more years into the future.
Find your Office 365 plan, expiry date and when Microsoft charges for renewal
Microsoft Office 365 buy or renew cheaper or free
All you need to do is buy the same Office 365 plan as you already have (Home or Personal) and add the unique product key to your existing Office 365 account.  It's quite legal and permitted.
Warning
We've seen suggestions that this or other deals could be bought and used by customers in other countries.  That will NOT work.  Office 365 plans are locked into a region.  For example, a US or Australian customer can't buy Office 365 in the UK.  The product code won't be accepted to extend a subscription based in another region.