Windows 10 October 2018 (version 1809) wasn't Microsoft's finest hour with many update bugs that took too long to discover (listen to customers) and fix. The update is worth getting for one thing: a better clipboard but there's a big problem as well.
Windows 10 now saves more than one item into a clipboard memory.
Most likely you already have this enhanced clipboard and don't even know it.
Win + V shortcut
Find out by pressing Win + V (instead of the usual Ctrl + V for Paste) and a clipboard menu will appear.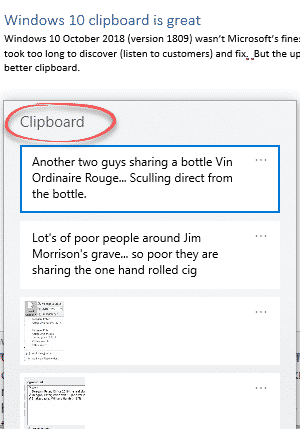 That's a list of recent things copied (Ctrl + C) or cut (Ctrl + X) into the clipboard. Text, links and images. Click on an item to paste, which works in any Windows program.
So many uses for this feature, you'll probably find some yourself but here's just one.
Copying links and accompanying text
We need to copy text from a web page (like the heading) plus the web link from the browser address bar. In the past, two copy/paste 'trips' were necessary between the browser and Word (one for the text, another for the web link). With the enhanced clipboard, both the text and link can be copied from the browser, then switch to Word for pasting the text, then the link.
The big problem with the enhanced clipboard
It's too hidden away and too easy for forget it's there! Separately pasting each item is the habit of decades so it's hard to remember there's now an easier way.
More Clipboard …
Windows 10 May 2019 for Microsoft Office users has a whole chapter on the Clipboard in Windows (starting on page 429 in the current edition). The original clipboard, more details on the new enhanced clipboard and even the Office clipboard (yes, there's one in Office too).
Windows 10 May 2019 for Microsoft Office users has just been updated with all the skinny on the new update options and what's new and changed in the May 2019 update. It's available today for just $12.95, a $7.00 discount for Office Watch readers (that's you). Past purchasers of the book get their usual free update. Go to your online account to download a complete replacement ebook.