PowerPoint 365 for Mac has a background animation or 'Ken Burns effect' feature that's not available in other PowerPoint's. We have hidden tricks to improve Animate as Background beyond the simple defaults.
Animate as Background adds a slow 'zoom and pan' effect to a still image, making it a moving 'Ken Burns' effect. We'll show you how to change the presets from what appears to be a fixed not-customizable feature.
The feature is on the Picture Format tab, tucked away on the right-side.
The selected image appears. Click on places in the image that you want to focus on.
Click a numbered spot again to remove it.
What happens
Animate as Background uses the spots as the points for a zoom and pan combination.
When the slide appears:
Starts as full size image
Slowly zooms to Point 1
Pans to Point 2, then Point 3 etc.
After the last point, zooms back out to the full image.
Repeats once only.
Under the Hood
Switching to the Animation tab reveals what Animate as Background has done. It's combined some existing animation effects. There's an animation path created automatically using the points clicked on.
Open the Animation Pane to see the entire sequence and tweak it to suit yourself.
Delay time
If you'd like the stop longer on a spot, choose it and raise the Delay time.
Zoom speed
Change the Zoom speed using the Duration option on one of the Custom Path actions.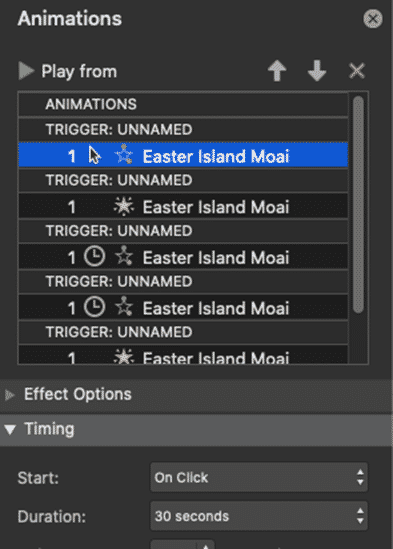 Repeat or Rewind
Change the repeat number or reverse the animation by choosing the first animation action then look under Timing.
Repeat: defaults to one replay of the animation. Change that to none, a higher value or until next slide or click.
Rewind when finished playing: runs the animation in reverse after it's played in the standard order.
PowerPoint 365 for Mac only
PowerPoint for Windows users should be jealous of their Mac cousins. Animate as Background is a quick way to add an animation to a slide which is much easier than the fiddly individual tools on the Animation tab.
Animate as Background was added to PowerPoint for Mac almost four years ago.  The PPT/Windows team at Microsoft have had plenty of time to implement it so presumably a decision has been made to withhold it.  We wonder why?