Windows 11 is getting a way to view your Microsoft 365, Office 2021 and Office 2019 licence details within the Windows Settings app.
At Windows Settings | Accounts | Your Microsoft account … it shows a lot of the details from the Office.com account web pages.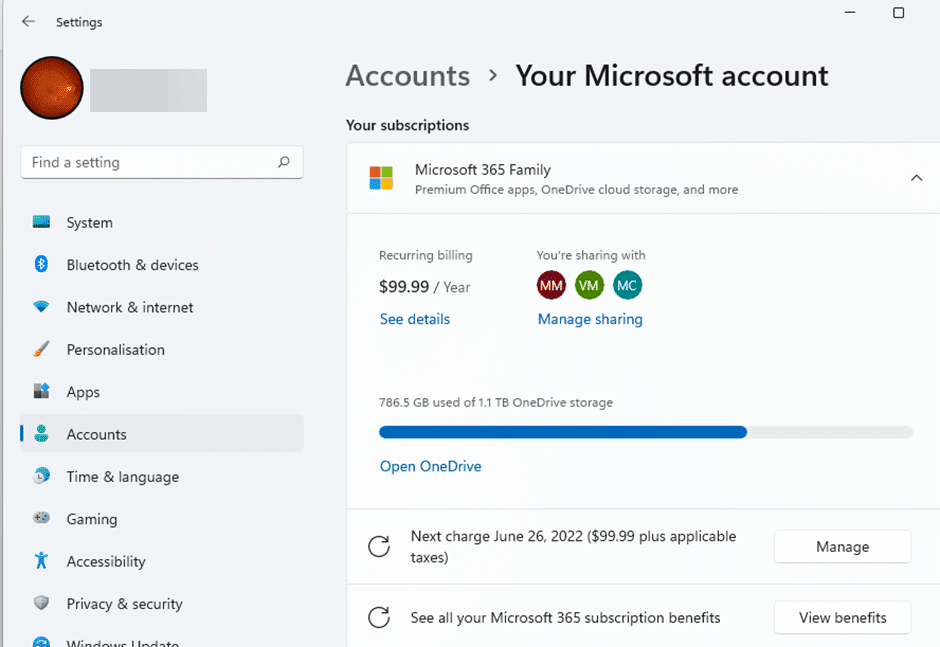 Windows 11 for Microsoft Office users is your independent guide to the latest in Windows.
Your Microsoft account
Type of Microsoft 365 plan – Family, Personal
For a Family plan, who is sharing the plan.
When the Microsoft 365 subscription is due and amount to pay, that's assuming you don't top-up your plan more cheaply first <g>.
Manage – opens a Microsoft 365 subscription page at Microsoft.com
View benefits – opens the same subscription page but with the additional features (OneDrive, Skype) displayed.
Office 2021, Office 2019
The same pane also shows details of a Office 2021 or Office 2019 purchase.
It's in current Windows 11 Insiders versions and will appear in public releases later in 2022.
Beware! Clippy is hiding in Windows and Office
Taking screenshots – Windows, Mac, iPad and more
Force Windows indexing to run faster
Why is Pi 𝜋 missing from Windows 11 and Windows 10?