Type the Yen ¥ currency symbol into Microsoft Word, Excel, PowerPoint or Outlook. Both in Office for Windows and Office for Mac.
Yen is used for Japanese currency and the Chinese Renminbi / Yuan. Microsoft Excel also offers the Yen symbol for Mongolia even though the tögrög currency uses another symbol. 
¥ symbol is easy on some keyboards but for most there's no specific key for Yen.
How Yen looks in different fonts
Here's some examples of how Yen ¥ looks in common Office fonts.
Word and Outlook
The Yen ¥ sign does NOT have an inbuilt shortcut in Word. Use the standard Word Alt + X symbol shortcut
00A5 then Alt + X
or just
A5 then Alt + X
Once in a document you can copy it to AutoCorrect and make your own shortcut.
Yen ¥ codes
These are the important code numbers or values you'll need to enter the Yen or ¥
Decimal: 165 Hex: 00A5
Web: ¥ or ¥ or ¥
(web codes aren't used in Microsoft Office, we've included them for the sake of completeness.)
Word, Excel, PowerPoint and Outlook
Insert | Symbols | Symbol and look for the Yen symbol.
Excel display of Yen ¥ 
In Excel, currency symbols aren't usually typed in, except perhaps for headings or other text cells.
To display a cell value as Yen, use the Currency or Accounting cell formats then choose the currency symbol from the drop-down menu.
If the currency or symbol isn't there, go to Format Cells | Currency or Accounting where there's a long, long list of currency symbols including six Yen options.
Windows
In Windows there are several shortcuts to enter the degree character into any program, but they use a numeric keypad, not the number row above the letters.
Alt + 165
Windows Character Map
The Windows Character Map accessory in all Windows releases.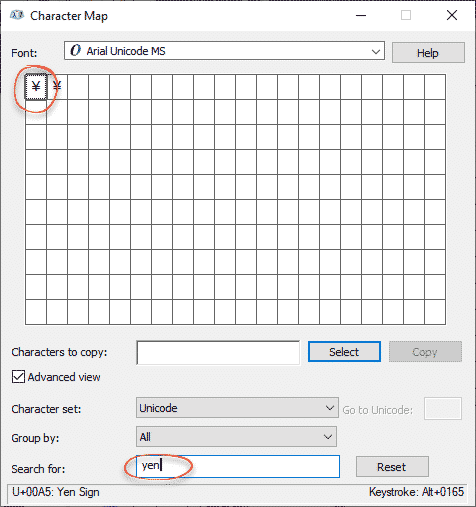 Character Map has a search feature, something missing from the Insert | Symbol in Office.
Emoji Panel
The Windows 11/10 Emoji Panel has the Yen ¥ . Use Win + . (period/fullstop) to open the panel.
Choose the Symbols tab (the third of the top row icons), then the Currency Symbols section.
MacOS and Office for Mac inserting characters
On a Mac, press Option + Y to enter the Yen ¥ symbol.
Or Command + Control + Spacebar shortcut to open the Character Viewer. Search for " Yen " and the Viewer should find the symbol you need.
Despite the name Character Viewer, the Apple system tool will also insert characters into any program, including Office for Mac.
Currency ¤ Symbol in Word, Excel, PowerPoint and Outlook
Dirham / Emirates currency symbol – entering into Word & Office
Quickly type Euro € sign in Word, Excel, PowerPoint and Outlook
Adding the Ruble to Office
Two new PowerToys useful for Office users